Dentures – Fort Worth, TX
Restore Your Oral Integrity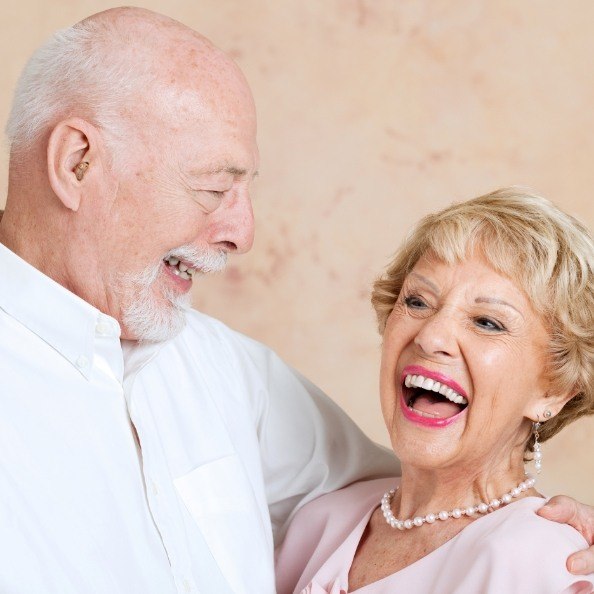 Don't let an incomplete smile keep you from doing the things you love. If you've lost teeth to decay, disease, or injury, it can be difficult to complete daily tasks like eating, speaking, and smiling. Fortunately at Fort Dental, we offer customized dentures that can help revive the appearance and function of your smile. To learn more about how natural-looking dentures in Fort Worth, TX can restore your oral integrity, give us a call!
Who is a Good Candidate for Dentures?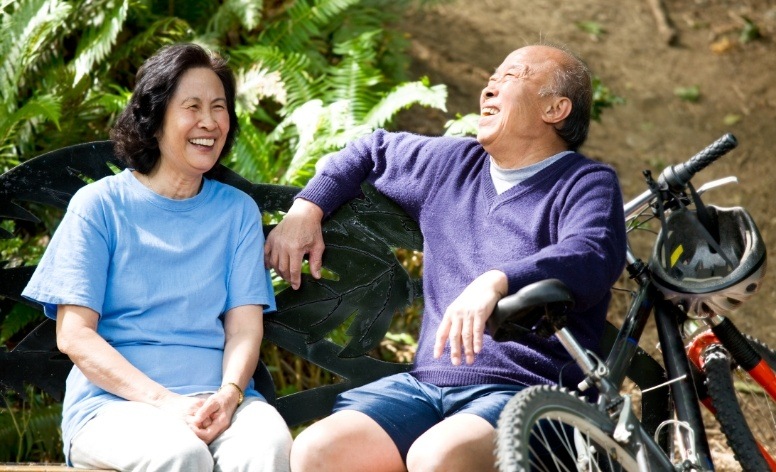 Dentures are recommended for patients who are missing several, most of, or all of their teeth. Depending on the number of teeth that you're missing and where they're located in the mouth, a customized plan can be created just for you to restore the appearance and function of your smile. If you currently have any oral health issues, you will need to have them treated before you're able to move forward with the process of getting dentures. Our number one priority is your oral health!
Types of Dentures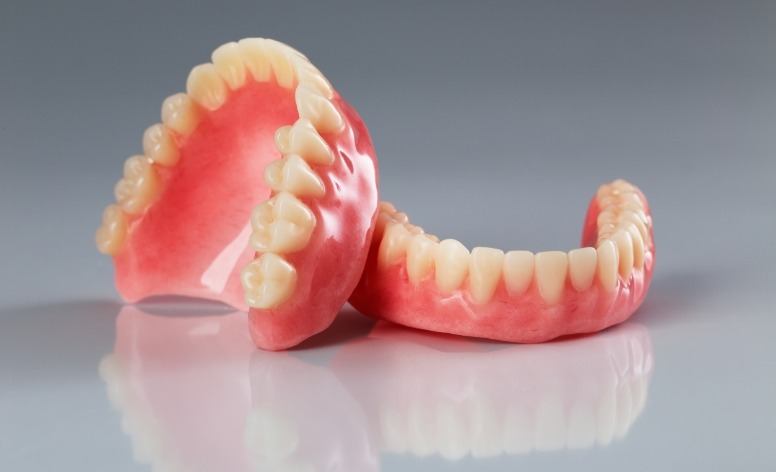 There are a few different types of dentures out there to cater to a variety of needs. During your initial consultation, we'll determine which of the following options is best suited for you:
Partial Dentures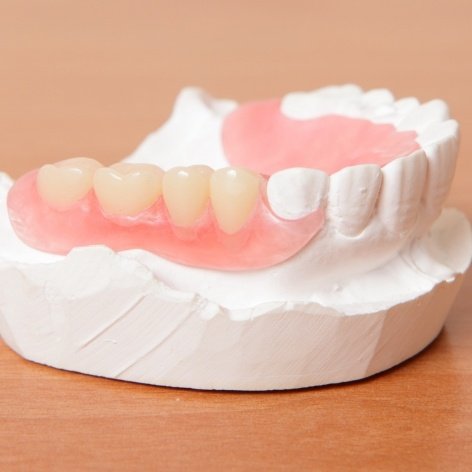 If you have some healthy teeth remaining, partial dentures, commonly called partials, can fill in the gaps to complete your smile. This type of denture is designed to fit between the existing teeth like a puzzle piece in order to fill in the gaps. Small, discreet clasps wrap around your natural tooth structure to keep the restoration in place.
Full Dentures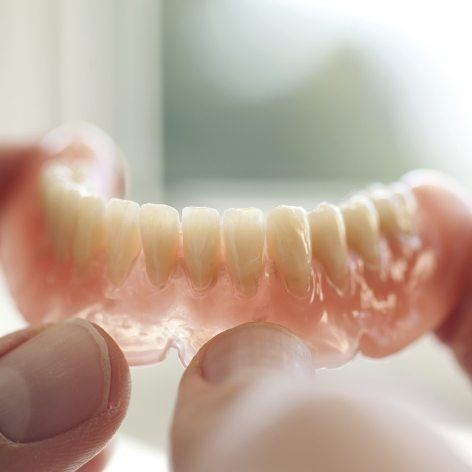 Full dentures are made to replace an entire arch of missing teeth. They are held into place by the shape and suction of the gum tissue. Similar to partials, full dentures are made from a gum-colored base that holds natural-looking replacement teeth.
Dental Implant-Supported Dentures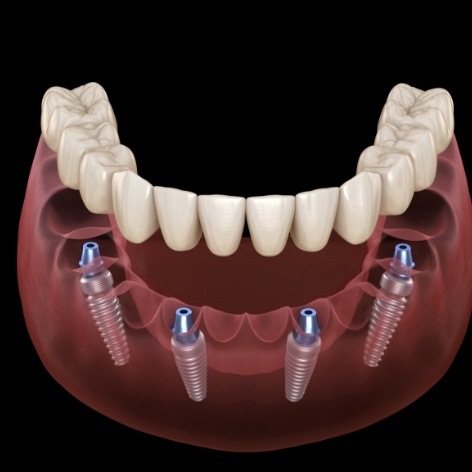 When a patient is missing teeth, but looking for a sturdier, longer-lasting tooth replacement option, dental implant dentures are a probable solution. These dentures are held into place with titanium, screw-like implants that are surgically placed into the jawbone to act as tooth roots. They allow for additional chewing power and prevent bone loss from occurring over time.
The Benefits of Dentures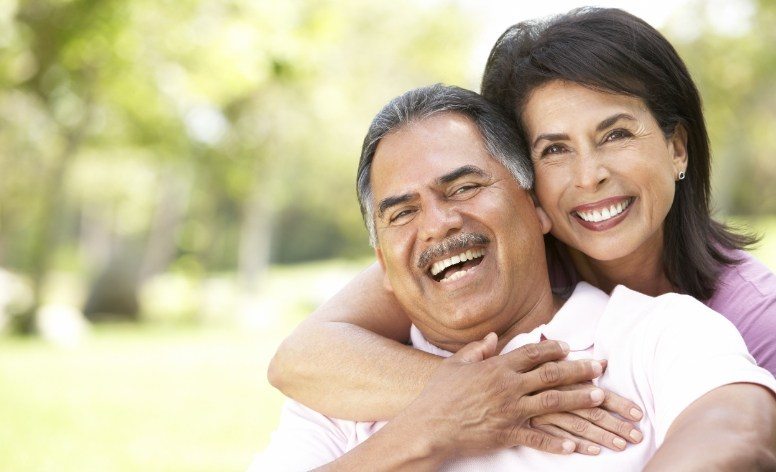 There are all sorts of benefits you can expect to experience when you choose dentures to replace your missing teeth. Here are some of them:
Allows for easier eating
Prevents movement of surrounding teeth
Covered by most dental insurance plans
Improves speech
Natural appearance
Removeable for easy cleaning
Increases confidence
Supports facial muscles
Understanding the Cost of Dentures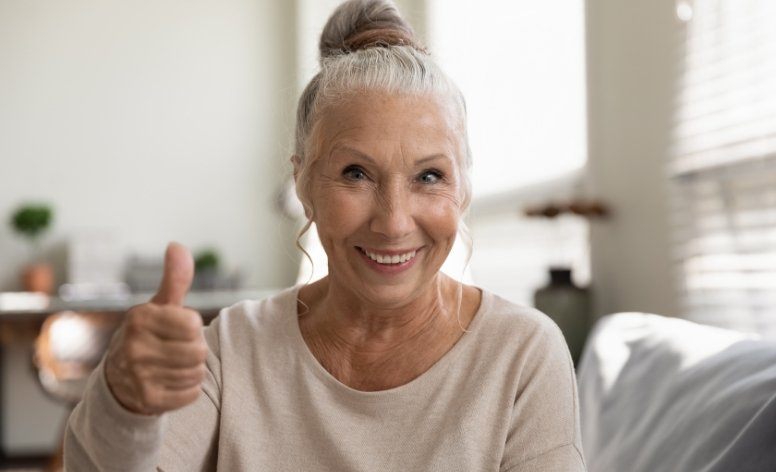 In many cases, dentures can completely revitalize a smile that has been impacted by tooth loss. Without dentures, eating and speaking become significantly more difficult, and confidence can be in short supply. Not only can custom dentures restore functionality but also your self-esteem. Instead of hiding your teeth from view, you can feel comfortable eating, speaking, or smiling in front of others.
Because each patient's circumstances are unique, we cannot provide an estimate for dentures without first examining your mouth, talking with you about your goals and needs, and putting together a treatment plan. That's why a consultation is so important!
Factors that Affect the Cost of Dentures
We consider many different things in the cost of your dentures, such as the number of teeth being replaced, the location of these teeth, and whether you're attaching your denture to implants. As you might imagine, partial dentures usually cost less than full dentures. If you are having preliminary work done, like tooth extractions or implant placement, the overall price will go up as well. After we've had the chance to create your treatment plan, we can go through the specific cost, as well as ways to make it more affordable.
Are Dental Implant Dentures More Expensive?
In general, yes, implant dentures tend to cost more than traditional dentures, but that's because they offer so much more. Not only do they replace the visible portion of your teeth but also the root structure. By doing this, these prosthetic teeth provide more stability and strength to your bite, keep the jawbone strong, and last much longer than traditional dentures. In fact, over time, you may find that implant dentures can save you money because they do not need to be adjusted or replaced as frequently as normal dentures.
Does Dental Insurance Cover Dentures?
Although individual policies may differ slightly, most dental insurance plans do cover part of the cost of dentures. In fact, many tend to pay for about half of the total cost of these prosthetic teeth; however, before we give you an estimate for your dentures, we'll need to verify your plan's coverage. We'll be happy to walk you through the entire insurance process and help you understand your benefits.
Other Options for Making Dentures Affordable
As with any needs or questions, you can certainly ask our team for help. We will do our best to make sure you're taking full advantage of your insurance benefits. Other than insurance, our team is willing to work with you to find a solution that works best with your budget. We may also accept payment through a trusted financier, dividing the cost into lower, easier monthly payments.
Denture FAQs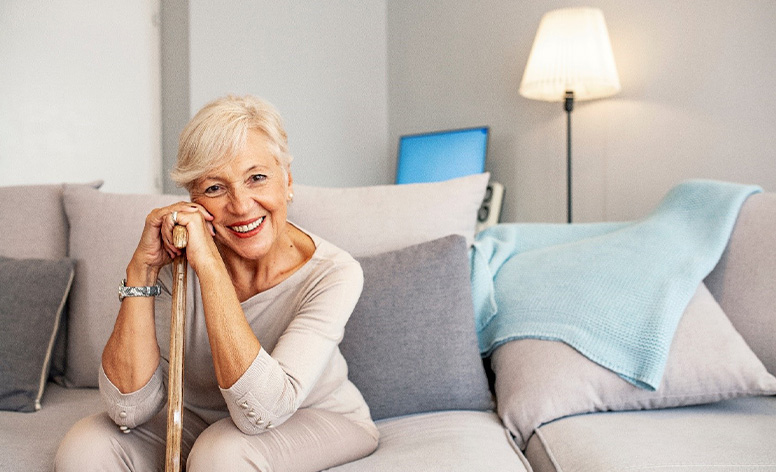 Before you replace your missing teeth with dentures, you may have questions. It's important to have the information you need to make the right decision for your smile. To help you, our team at Fort Dental has answered some of the most common inquiries about dentures in Fort Worth below. We hope it will prompt you to schedule a consultation with us, where we can discuss these issues in greater detail with you. After an examination, we can talk about which denture option can best meet your needs and answer any questions you may have about treatment.
Am I a Good Candidate for Dentures?
Whether you're getting a partial denture, full denture, or implant denture, you need to be in good oral health before your lost teeth can be replaced. If you have gum disease, decayed or damaged teeth, or any other oral problem, we'll address it prior to beginning denture treatment. To be eligible for implant dentures, however, you must also have enough jawbone density to support the implants. Do not be discouraged if you are not a good candidate initially. With most patients, we can get them in a position where their teeth can be successfully restored with traditional or implant dentures.
How Long Does Getting Dentures Take?
The timeline for receiving your dentures depends on several factors. For instance, if you first need to have any teeth removed, the process can be delayed by six weeks to allow the gum tissue to heal properly and fully. For those who are getting implant dentures, the process can take as long as six months before the final dentures can be attached to the implants.
We won't be able to give you an accurate timeline until we've had a chance to examine your mouth. During your consultation with your denture dentist in Fort Worth, we can discuss how long your treatment will take based on your specific circumstances.
Do Dentures Hurt?
Modern dentures are fabricated to fit better than ever before. If you're new to wearing dentures, however, you can expect to experience some irritation in the gum tissue, which is normal at first. Eating and speaking comfortably with traditional dentures can also be a challenge at the beginning, but given enough time, you should adapt and be able to function without pain or discomfort of any kind.
How Are Dentures Supposed to Be Maintained?
Although your prosthetic teeth may look realistic, keeping them clean and healthy requires different care than natural teeth. Instead of brushing and flossing your teeth after a meal, you should take your dentures out, thoroughly rinse them to remove food debris, and place them back in your mouth. Then, every night, you need to soak them in denture cleanser while you sleep to eliminate bacteria. About twice per year, visits to our dental office allow you to get a professional cleaning for your dentures as well as a checkup to make sure there are no problems with your gums or prosthetic teeth.
How Long Will I Have to Wait to Get Dentures After Tooth Extractions?
In some cases, you may have to get some of your teeth pulled before you can be eligible for dentures. If this is necessary for you, then you might expect to wait anywhere between six to eight weeks before you can move forward with your tooth replacement. That said, the precise amount of time will depend on several factors, such as the type of dentures you're receiving. You'll need to wait for your gums to completely recover, which will also allow your dentist to confirm that your prosthetic will fit flush in your mouth. If you've opted for implant dentures, then you'll have to allow the metal post about four to six months to fuse with your jawbone via osseointegration.
Can I Sleep with My Dentures?
While sleeping with your dentures on is possible, we highly recommend that you take them out before going to bed. Most patients will be instructed to keep their prosthetics in for the first 24 hours after receiving them, including bedtime. After the first day, you'll want to remove them every night. Each time you wear your dentures, the circulation in your gums will be restricted, which can result in irritation of the soft tissues and even speed up ridge resorption. By taking them out, you'll allow your gums a chance to heal and receive the necessary nutrients as you sleep. Additionally, leaving them in can allow harmful bacteria to accumulate and grow overnight, which can increase your risk of serious issues like pneumonia. To maintain good gum health, be sure to soak your dentures in a cup of water or cleansing solution while you sleep.
Is It Difficult to Speak with Dentures?
Many patients do find it challenging to speak clearly when first getting their dentures. While it will take some time to get used to talking with your new teeth, constant practice is often the best way to speed up the adjustment process. Some people experience a slight lisp at the beginning due to changes in their palate. Once your tongue becomes accustomed to these changes, this symptom should go away.
Take the time to pronounce and repeat words, phrases, and sounds that are particularly difficult, such as 'v', 'f', and 's'. After getting used to the way your dentures work in your mouth, start reading aloud and speaking slowly until you adjust to the movements. If you have difficulty keeping your dentures firmly in place, you can bite down and swallow, use denture adhesive, or visit us in case we need to make any adjustments.
What Can't I Eat with Dentures?
Although dentures are meant to restore the look and function of your natural teeth, they typically only return 25-30% of your biting power. This means you'll need to avoid certain foods so that you can enjoy your meals comfortably. Treats that are too hard or crunchy, such as popcorn, apples, nuts, and carrot sticks, can cause your dentures to become dislodged or damaged. Sticky foods like gummy candies and peanut butter could end up pulling your prosthetics out, which can allow debris and bacteria to get stuck underneath them as well as irritate your gums. Tougher meals like pork chops and steak will require excessive chewing, which can place too much stress on your dentures and your gumline. For these, it's recommended to cut them up into small pieces first.