Dental Implants – Fort Worth, TX
Your Solution for Missing Teeth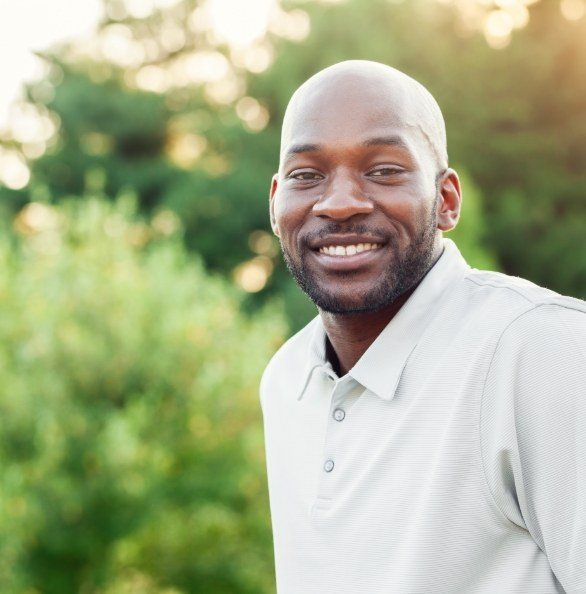 A beautiful, comfortable, functional smile requires a full set of strong, healthy teeth. If you've lost one or more teeth to decay, trauma, or disease, our dentists can restore your quality of life with natural looking dental implants in our Fort Worth, TX dental office.
Many patients turn to dental implants because they seek a prosthetic tooth or teeth that look and feels like nature intended. Implants feature a prosthetic root and crown, so they mimic natural tooth structure. No adhesives or clasps are required, and you will never have to worry about mouth irritation or embarrassing slippage. Cared for properly, dental implants can last a lifetime.
What Are Dental Implants?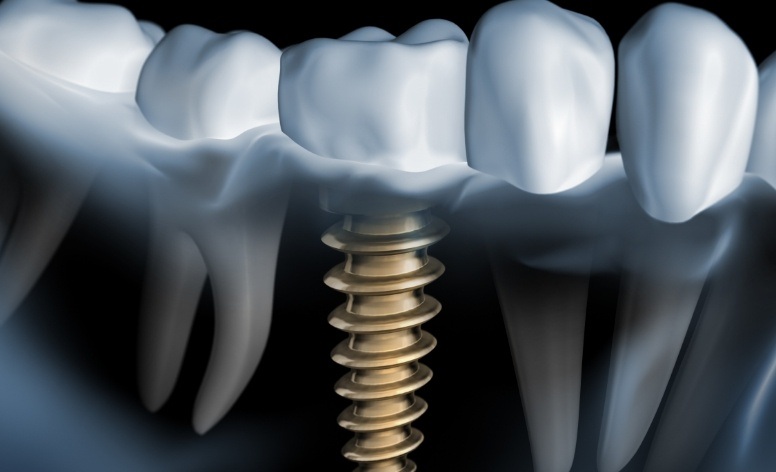 When it comes to tooth replacement, dental implants are the closest thing you can get to achieving a tooth that looks and functions like a real tooth. This is because unlike other solutions, such as bridges and dentures, dental implants take the process a step further by replacing the entire structure of the tooth. This provides many benefits that are unique, including jawbone stimulation, increased biting force, better longevity and reliability, reduced risk of future tooth loss, and an overall boost in confidence, self-esteem, and your quality of life. These reasons and more are exactly why dentists have been recommending dental implants to patients for decades.
The Dental Implant Process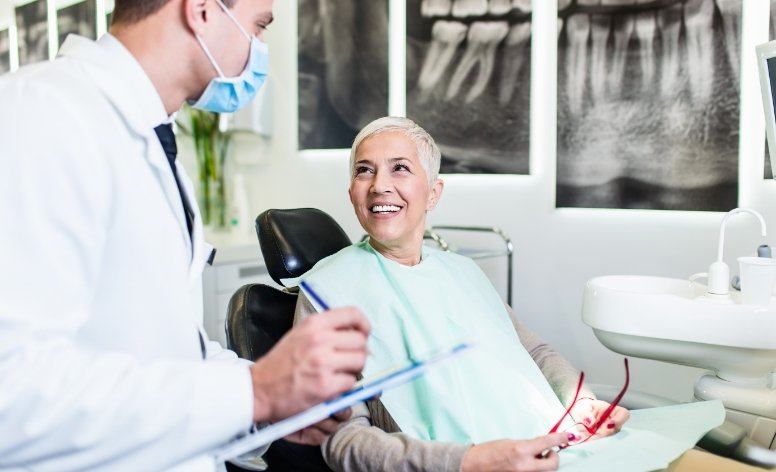 If you're missing one or more teeth, dental implants are a nearly perfect replica of what you have lost. They are unlike any other treatment because they provide unmatched support and stability, as well as several other benefits. You'll need to undergo a multi-phased treatment process that can take several months; however, it's time well spent because your new smile can last for a lifetime with the right aftercare. Here's what you can expect while on your journey to a complete smile.
Read More
Initial Consultation
Most people who have good oral and general health can replace their missing teeth with dental implants, but you'll still need a thorough consultation. Besides a visual exam, we'll also review a CT scan of your oral structures to look for any hidden issues that might cause complications, like infection. Based on the results of your examination, you might need additional treatments before undergoing your placement surgery, like periodontal therapy or bone grafting.
Dental Implant Surgery
After you've healed from any previous treatments, you're scheduled for your implant placement surgery. Sedation or anesthesia is used to ensure you're comfortable as your gum tissue is opened to expose your jawbone. Small holes are drilled into pre-determined locations to insert titanium posts, which will serve as new tooth roots. Your gum tissue will be sutured closed and the healing process will begin.
Osseointegration & Abutment Placement
You'll spend the next several weeks healing. It's normal to experience some discomfort while you heal. You can manage your discomfort using an over-the-counter pain reliever. Apply cold compresses to the outside of your face to manage any swelling. Within a couple of weeks, your pain will subside; however, you'll continue to heal under the surface.
Your implant posts are acting as tooth roots, stimulating your jawbone. This encourages new bone growth, allowing your jaw to fuse to the posts through a process called osseointegration. After your bone has healed, you'll have a sturdy foundation for your restorations. Your dental implants can remain in place forever with the right aftercare, like maintaining your oral hygiene and routine appointments with your dentist.
After your jawbone has fully healed, you'll need a second minor surgery to attach abutments to your posts. They are special fixtures that connect your restoration to your dental implants. A local anesthetic is used to ensure your comfort as your jawbone is opened to expose the posts. The abutments are placed onto them, and your gum tissue will heal around them over the next couple of weeks.
Delivery of Final Restoration
While your gums are healing, the dental lab is hard at work creating your restorations from all-ceramic material. They are customized to match your teeth and look natural when you smile, whether you're replacing single, multiple, or all the teeth in your arch.
Benefits of Dental Implants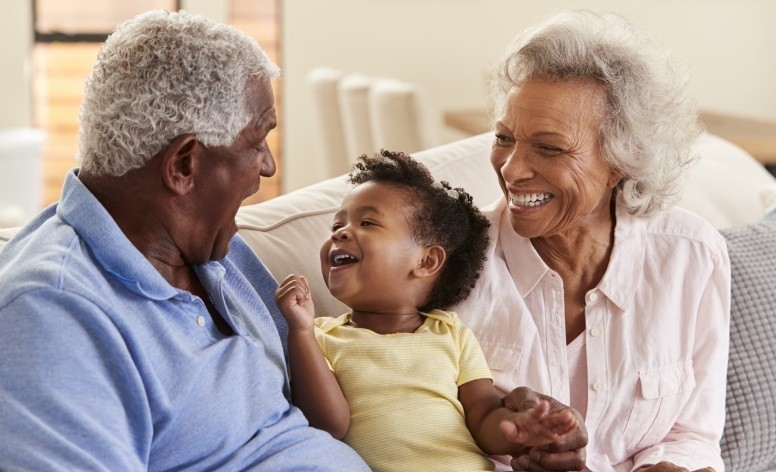 Whether you recently had a tooth extracted or you need to have your entire smile rebuilt from the ground up, there are many reasons to consider dental implants to get the job done. Not only do they provide longevity that is largely unmatched in the dental field, but you can have confidence in your smile, no matter who you're talking to. At Fort Dental, our dentists can complete the entire process in-house for additional convenience. Call our dental office to begin your very first consultation!
Read More
Regain Full Functionality
Dental implants mimic natural teeth more closely than both dental bridges and dentures, meaning that you can expect full functionality from your tooth replacements once they have fully healed. This is because of the complex osseointegrating process that occurs over the next several months following your surgery. Whether you want to eat your favorite foods or be able to speak with confidence, our dentists place and design your dental implants with functionality as the top priority!
Restore Your Smile's Appearance
We understand that having a gap in your smile simply won't do. Whether you want to make your smile complete once more or replace a stubborn denture that simply won't stay put, dental implants ensure that you can smile with confidence every day. Each implant crown is customized with the shade, size and shape in mind, so your smile and overall appearance look balanced. No one but you and our dental office will even know that you had dental implants placed!
Stop Future Bone Loss
Dental implants physically bond with your jaw's bone material, which is why the healing process takes such a long time to complete. However, this process also ensures that your bone tissue no longer atrophies or resorbs back into your body. Even those with dentures and dental bridges can't avoid this side effect, while dental implants stop it in its tracks. The result is a stronger biting force that makes chewing feel natural and a jaw that retains its overall shape.
Easy Maintenance
Dental implants do not require any special maintenance to keep healthy. Even the crown itself cannot develop decay since it is made from inorganic porcelain! However, you'll still need to brush twice a day, floss daily (especially around the implant crown), and visit our dental office once every six months for an exam and cleaning. These steps are necessary regardless of whether you have dental implants or not.
Longevity
When properly taken care of, dental implants are capable of not only lasting over 30 years, but they can even remain healthy for the rest of your life! This is a level of longevity that cannot be promised for other methods of tooth replacement. It's also one of the biggest reasons why dental implants are worth the investment.
Who Dental Implants Can Help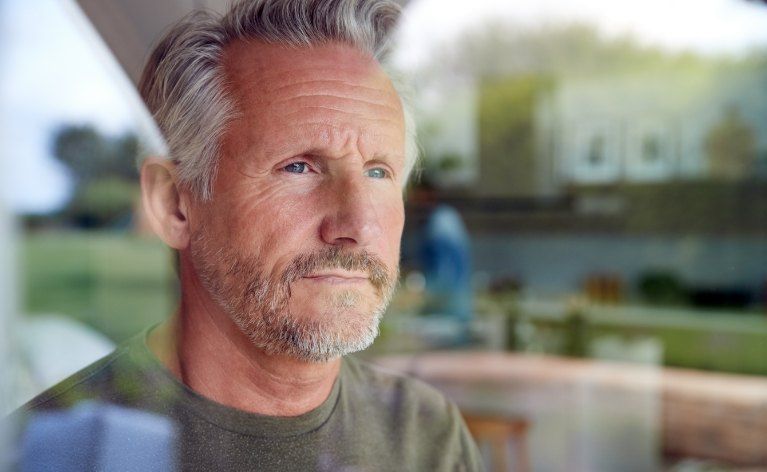 Dental implants aren't only designed to replace one tooth. In fact, their versatility allows our team to rebuild your entire smile!
Who Is a Good Candidate for Dental Implants?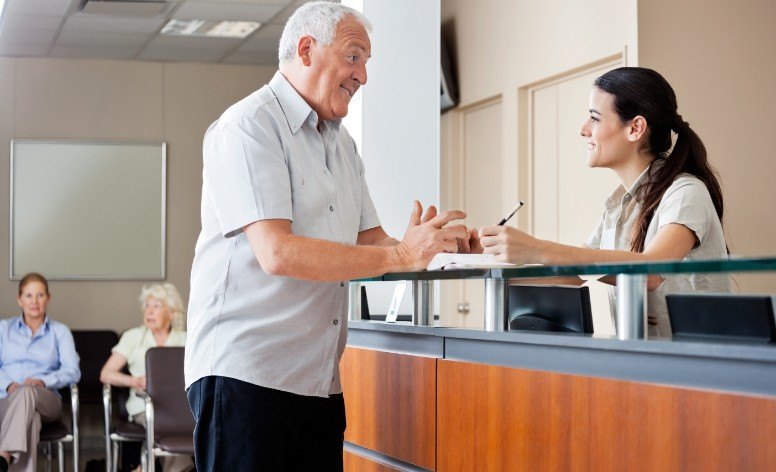 Good oral health and adequate jawbone structure are necessary to support dental implants. If you're a candidate, Dr. Cheng, Dr. Thorburn and Dr. Luk can surgically place tiny titanium posts in your jaw, one for each implant crown or a few to support a bridge, partial, or denture. Some implants allow for immediate attachment of a restoration, while others require a healing process prior to attachment. Our dentists can consult with you to determine the best option for your unique case.
Missing One Tooth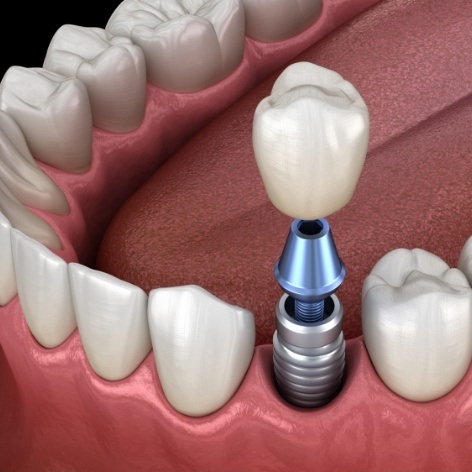 Single teeth are given a single implant and crown. They can be placed either in the top or bottom arch, but this will influence the amount of time needed for healing.
Missing Multiple Teeth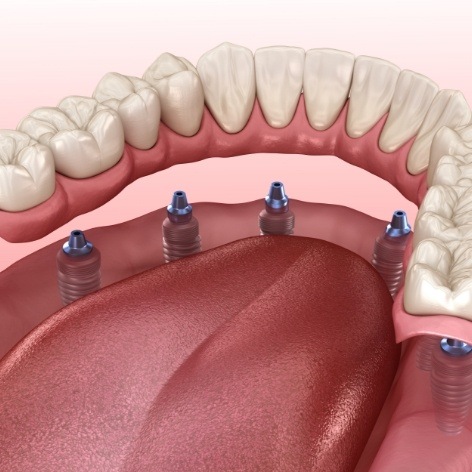 If you have consecutive missing teeth, we can use an implant bridge and two implants to rebuild your smile. Implant bridges are similar to traditional bridges except they do not require the process of buffing down natural teeth to place. Instead, they use an implant on either end of the bridge to hold one larger restoration connecting the crowns in between them.
Learn More About Implant Dentures
Understanding the Cost of Dental Implants
Over 500,000 people per year are choosing dental implants to replace their missing teeth. This revolutionary treatment is unique because it is the only way to recreate a tooth from the root up, providing amazing benefits that can't be achieved using any other option. Unfortunately, many people don't think they can pay the cost of dental implants in Fort Worth; however, people from all walks of life can afford them. In fact, dental implants are more cost-effective than you might realize. Here's what you can expect when rebuilding your smile.
Read More
Preliminary Treatments & Dental Implant Surgery
Replicating a tooth with a dental implant requires multiple steps that occur over many months. Each phase of your treatment has separate fees, which can make it easier to pay for your new smile because the entire cost isn't due upfront. Although every plan is unique, your estimate may include additional procedures, like periodontal therapy or bone grafting. The surgery as well as the restoration itself also come with their own fees.
The Parts & Type of Your Dental Implant
There isn't a pre-determined rate for dental implants because the cost is based on each patient's individual needs, such as the number of teeth being treated. On average, you can expect to pay more if you have several missing teeth. We'll provide you with an estimate during your initial consultation and discuss the expenses associated with your plan.
Are Dental Implants Worth the Investment?
Dental implants are initially more expensive than traditional treatments; however, they are the most affordable long-term. They are a reliable solution to treat tooth loss that's proven to last for decades with the right aftercare. They have over a 95% success rate, so you won't need to worry about paying to have them replaced in a few years.
Dental implants also lower your overall oral health expenses. They preserve your jawbone to stop dental drift, reducing your risk of common issues associated with tooth loss, like cavities and gum disease. This prevents you from needing a costly treatment down the road.
Does My Dental Insurance Cover Dental Implants?
Every insurance policy is different, but many plans include some coverage for dental implants. After reaching your annual deductible, you can use your benefits to lower the amount you'll pay for certain steps in your treatment, like tooth extractions, sedation, or your restorations. We'll work on your behalf to maximize your policy to reduce your out-of-pocket balance.
Fort Dental accepts several payment methods to keep your dental implants in Fort Worth affordable. Contact our dental office today to schedule your consultation for a complete smile.
Dental Implants Post-Op Instructions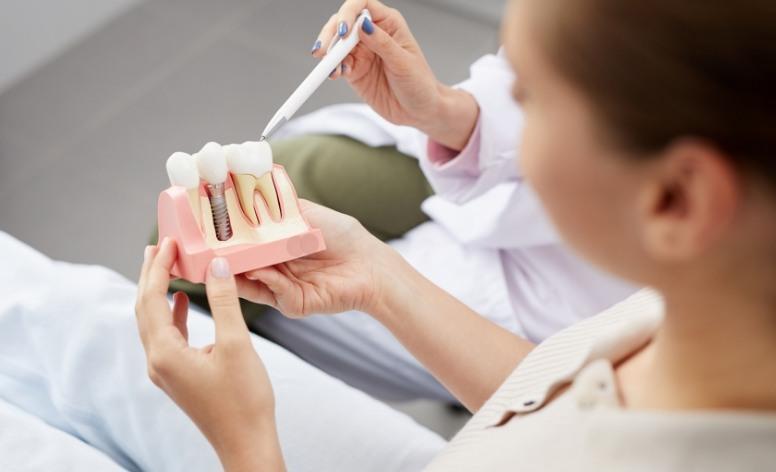 Although the placement procedure is considered minor, outpatient surgery, don't let the thought of undergoing surgery intimidate you. Our team can guide you through the entire process and teach you dental implant post-op instructions in Fort Worth for the hours and days afterward. We'll also share what normal symptoms you may experience and which ones you should keep a close eye out for so that you heal properly from the procedure. If at any time you have intense pain, contact our dental office immediately.
Read More
What to Do Directly After Dental Implant Surgery
When healing from oral surgery, the most important thing you can do is allow a blood clot to form over the site. This protects the sensitive tissue and nerves underneath from infection. To keep the clot in place, you need to avoid the following for at least 24 hours after the placement procedure:
Using a straw.
Spitting forcefully (instead use gauze or a tissue to absorb excess saliva).
Smoking or using other tobacco products.
Touching the site with your fingers or tongue.
Common Side Effects
Especially for the first couple of days following implant treatment, you may contend with some discomfort, swelling, and minor bleeding. As time passes, these symptoms should subside. In the meantime, you can lessen any discomfort with over-the-counter pain medication, reduce swelling with hot or cold compresses, and control bleeding with gauze and light pressure. Pay attention to your symptoms and let us know if they get worse, not better, over time or if you have any other strange side-effects.
Diet
To give the site adequate time to heal, you need to stay away from crunchy, tough, or abrasive foods for several days. Instead, stick to a diet of softer foods, such as eggs, oatmeal, mashed potatoes, yogurt, pudding, soup (that isn't too hot), and ice cream. When you're feeling better, you can start to transition back to your normal diet, but try to avoid chewing directly on the implant site.
Health & Oral Hygiene
It's important to keep your mouth healthy and clean, even while you're recovering from surgery. You can brush your teeth on the same day as your procedure—just be careful around the sites. Also, preferably after meals, rinse your mouth two or three times per day with warm saltwater, which helps to control bacterial growth in your mouth. Do not use mouthwashes that contain alcohol, like Listerine or Scope.
What to Do After Your New Teeth Are Attached
At this point, you've already gone through the hard part. Getting your restoration is the final touch! You may have some gum sensitivity after we place your dental crown, bridge, or denture over your implants, but you can easily manage this with OTC medication. You shouldn't have much swelling, pain, or bleeding, and your new smile will be functional on that same day!
Dental Implant Frequently Asked Questions
Dental implants are one of the best investments you can make in your smile, and at Fort Dental, we know it's not necessarily an easy decision to make. Our team of professionals want you to be well-informed and confident about your chosen method of treatment, which is why we've listed some of the most frequently asked questions about dental implants. To learn more about this truly unique and superior tooth replacement solution, check out the questions below. Should you have additional questions, please do not hesitate to contact us.
Read More
How long does it take to replace teeth using dental implants?
Dental implant placement can take up to 6 months to complete. The reason is that once your implants are surgically placed into your jawbone, you'll be required to spend the next 3-6 months healing at home. A process known as osseointegration, which is the fusing on the implant to the bone and surrounding tissues, must successfully occur before returning to have your custom restoration secured into place. Depending on how fast you heal can determine how long it will take to receive your new, fully restored smile.
Can a dental implant fail?
Yes, dental implants can fail, but it's extremely rare. Dental implants have an extraordinarily high success rate (98%), so the majority of patients never experience problems with their new teeth. However, in certain situations, a problem can arise that ultimately results in implant failure. Some of the reasons this can happen include:
A patient is smoking or using tobacco, which can make it much more difficult to heal, thus, making the osseointegration process almost impossible.
Infection occurs in the bone or soft tissue.
An individual has a compromised or weakened immune system due to health-related conditions or diseases (i.e. diabetes)
Can I take dental implants out?
Dental implants in Fort Worth are designed as a long-term solution for tooth loss. They differ from other prosthetics because they replicate the roots and the crowns. Titanium posts are surgically placed into the jaw, which the bone will fuse with through a process called osseointegration. Therefore, you can't remove them on your own. Only a trained dental professional can take them out, like in cases of failure. However, some implant dentures are removable for easier cleaning.
Does it hurt to get dental implants?
You will require oral surgery to place your posts in your jawbone, but you don't have to worry about a painful day in the dental chair. Your jaw doesn't have any nerve endings and your implant dentist in Fort Worth will use a sedative or anesthetic to block any pain. Although you won't feel anything during the procedure, you can expect your mouth to be sore for a few days. An OTC pain reliever will keep you comfortable. Applying a cold compress can numb the area temporarily while reducing inflammation and bruising. You will be instructed to stick to a liquid diet for a couple of weeks before introducing softer foods.
How successful are dental implants?
Dental implants are the most reliable method of treating tooth loss. They have over a 95% success rate and are proven to last for 30 years or more. However, every situation differs and various factors affect their long-term success, like oral hygiene and lifestyle habits. You can ensure your investment thrives for decades with a great oral hygiene routine at home and a healthy lifestyle, like not smoking or drinking alcohol in excess. Don't forget to visit your dentist every 6 months for a cleaning and checkup. Your dentist will recommend avoiding anything that may damage your dental implants, like using your teeth in place of scissors or chewing on your fingernails. Don't forget to wear an athletic mouthguard if you play sports, and ask your dentist for a nightguard if you grind and clench your teeth.
What are the signs of dental implant failure?
Dental implant failure is rare, but it's best to be vigilant for any signs of complications, like redness, swelling, or pain. Although the issues may not seem concerning initially, they can be a sign of a serious problem, like an infection. If you wait too long to see your dentist, the underlying problem can progress until dental implant failure occurs. Quick detection and treatment can ensure your new smile lasts for a lifetime.
What should I do if my implant is loose?
After your jawbone has fused with your implants, they should never feel loose. If you notice any instability, contact your dentist right away. It can be a sign of implant failure caused by bone loss or infection, but it can also result from a loose or failing restoration. Don't take the risk. Contact your dentist immediately if your implant feels loose or painful.