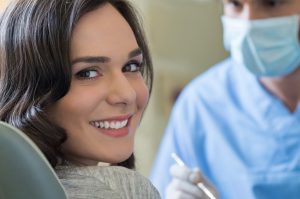 Laser dentistry is one of the most exciting treatment innovations to come along in a very long time. Lasers make regular dental procedures such as fillings, crowns, and cosmetic work both more effective and more comfortable for the patient. Let's look at some ways that lasers are transforming the way dentistry gets done in the modern world.
Eliminating the Need for Anesthesia
One of the hurdles that keeps people from getting the dental care they need is fear of traditional dental instruments, including the anesthesia needle. One way to resolve this problem is to make the job of filling the cavity so gentle that painkilling drugs are unneeded.
That's exactly what happens on a daily basis nowadays, thanks to dental lasers that destroy infection and gently reshape the tooth's interior to receive the filling. In most cases, no anesthesia is needed.
Laser therapy also reduces the amount of time needed to complete common procedures. This allows the patient to get out of the dental office and go about his or her daily activities sooner.
Reshaping Teeth Prior to Restorative Treatment
Crowns and bridgework have been used for decades to restore distressed and missing teeth. Each form of therapy requires the dentist to reshape the tooth. In the past, this meant using a drill and other rotary tools, an experience which many patients find unpleasant.
Dental lasers are removing the need for these old-fashion approaches. This makes the treatment experience both more effective but more comfortable.
Making Smiles Beautiful in Less Time
Your smile is more than just a part of your appearance. It's an expression of your talents and personality. It gives many people the first impression of you. It can open the door to new opportunities or close them forever. Yet how many of us are completely happy with our smile?
The purpose of cosmetic dentistry is to enable people to enjoy greater self-confidence by enhancing their smile. Dental lasers are an important new addition to the cosmetic dentistry toolkit. They're used to prepare teeth for porcelain veneers, reveal the smile's natural beauty, and eliminate the need for uncomfortable sutures. The results are a work of art.
Hundreds of Other Uses in the Dental Office
The potential uses for dental lasers are unlimited. Here is a partial list of other ways this gentle, safe tool is transforming the world of tooth care:
By removing excess bone and gum tissue that could otherwise hinder the placement of dental implants.
By eliminating the unsettling sound of dental drills and other electric tools, making the dental office a quieter, more peaceful place.
By reducing the amount of bleeding and tissue trauma caused by common procedures, speeding the healing process and minimizing risk of infection.
By allowing dentists to perform important procedures more efficiently, while still maintaining quality of care.
 Dental lasers are paving the way for a gentler, quieter, more effective treatment experience. Talk to your dentist about the benefits of laser therapy during your upcoming appointment. You'll soon have plenty of reason to smile.
About the Author
Dr. Greg Luk has been working in patient care for more than 15 years. As a member of our Armed Forces, he served as a medical sergeant and underwent multiple active-duty deployments to the Middle East and Asia. As a graduate of The University of Texas School of Dentistry, he brings years of tooth care training and experience to the table. You can reach his office online or by calling (817) 292-5957.
Comments Off

on Is Laser Dentistry Painful? What You Need to Know