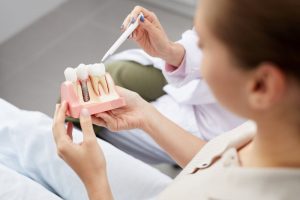 Life with missing teeth can be difficult. Simple things like eating your favorite foods and even speaking properly can be problematic. When you are missing teeth, it can be detrimental to your confidence. You might find yourself hiding your smile in pictures and feeling less comfortable in social situations. Fortunately, dental technology has come a long way. There are a number of options to restore your smile to full health. Dental implants are by far the strongest, longest-lasting, and most natural-looking tooth replacement options available. Read on to learn more about the benefits of dental implants from your Fort Worth dentist.
The Advantages of Dental Implants
Dental implants impact more than just your mouth. They are an investment in yourself. There are many reasons why dentists consider them to be the gold standard for tooth replacement.
They Last for a Long Time
Unlike other dental restorations like crowns and bridges, dental implants are built to last a long time. The implant fuses with your jawbone and functions exactly like a natural tooth. With proper care and dental hygiene, you can expect a dental implant to last for decades without causing you any issues.
They Are Non-Invasive
When replacing a single missing tooth with an implant, your dentist only has to worry about that one space. Other restorations, bridges especially, require drilling down the teeth on either side of that space which may be perfectly healthy. Implants bring you back to a full smile without compromising the integrity of your other teeth.
They Are Just Like Natural Teeth
Dental implants are the closest that you can get to a real tooth. You care for them just like the rest of your teeth and they look completely natural. Somebody meeting you for the first time would have absolutely no idea that you had ever been missing teeth.
Dental implants can have a tremendous impact on your life. Whether you are missing a single tooth or several, your dentist will be able to provide you with options to completely restore and optimize your smile. If you are currently missing teeth and have thought about making a change, now is the perfect time to have a conversation with your dentist about how implants can benefit you.
About the Author
Dr. Johnny Cheng wants his patients to have beautiful, full smiles. He loves seeing someone's confidence bloom when their smile is completely transformed. Since graduating from dental school, he has spent hundreds of hours continuing his education and refining his craft. He considers himself a lifelong learner and does not stop until a job has been done the right way. He has been named a "Top Dentist" in Fort Worth Magazine as well as one of "America's Top Dentists" in cosmetic and family dentistry for 2005, 2006, and 2008, 2009 – 2011 by the National Consumers' Research Council of America. If you'd like to see if dental implants are a good fit for you, he and the team at Hulen Dental would love to give you a consultation. Give the office a call at (682) 312-3419 or send them an email to get yourself on the path to a brand new smile.
Comments Off

on Dental Implants: A Dynamic, Long-Lasting Solution