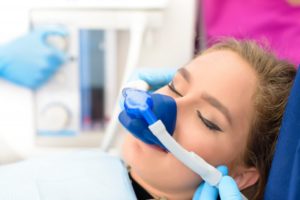 While going to the dentist for your biannual checkups and cleaning is essential to keeping your oral health in top condition, you may find yourself delaying treatment. Oftentimes, feeling anxious or fearful about a dental visit can make people avoid getting professional help for their teeth and gums. Fortunately, sedation dentistry has helped to make those visits easier. But did you know that sedation options like IV sedation or oral conscious sedation offer other benefits other than easing dental anxiety? Here are five of them!
#1. Allowing full consciousness
Unlike what's commonly believed, dental sedation allows you to be fully conscious and aware of what's going on the entire time during your procedure or treatment. You will be able to respond to your dentist's requests and directions, allowing them to treat your smile successfully and easily!
#2. Faster Appointments
Do you dread your dental appointments simply because you feel like they take up a big chunk of your time during the day? The good news is that sedation dentistry will make it easier for your dentist to work more efficiently. Your visit can be completed in less time as you relax in the dental chair.
#3. Get More Done at One Time
If you have been needing to have more than one procedure or treatment completed at the dentist, dental sedation can help you to easily knock them out. You will be able to be completely relaxed throughout the duration of your appointment so your dentist can steadily complete the improvements to your smile and oral health.
#4. Relieving your memory from the treatment
If any work on your mouth makes you relive a bad experience as a child or you simply don't enjoy the sights and sounds of a dental office, sedation dentistry will help diminish any negative memories of your time at the dentist. The time is sure to fly by with the calming effects of the sedation.
#5. No Extra Recovery Time
Sedation dentistry helps you to get all your dental work done without impacting the rest of your day. While you may have to have someone drive you home after your visit just to ensure the effects have completely worn out (they usually do within a few hours), you will soon be able to return to your regular schedule. You don't have to plan for a whole day of being out of work.
As you can see, there are so many benefits of sedation dentistry besides just calming dental anxiety. By discussing your options with your dentist, you can choose the best one as you enhance your grin and your oral health!
About the Practice
Fort Dental is eager to help you keep your smile whole, healthy, and beautiful while keeping you at ease. Their team of dentists offers a comprehensive range of services, including preventive, restorative, cosmetic, and emergency care. With more than 40 years of combined experience, they provide multiple sedation dentistry options as they help you to keep your oral health in top condition. To schedule an appointment, contact them through their website or call (817) 292-5957.
Comments Off

on 5 Benefits of Sedation Dentistry (Other than Easing Dental Anxiety)