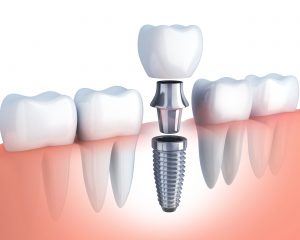 You've recently gotten sick and tired of having gaps in your smile due to missing teeth, so you decided to visit your dentist, who suggested getting dental implants. When it comes to replacing missing teeth, implants are clearly the best choice over other options like bridges or dentures. However, your dentist said that you need a bone grafting procedure before you can get implants placed. What exactly is a bone graft? How does it help your dental implants? Keep reading to find out.
How Dental Implants Work
Dental implants are titanium posts the size of your tooth roots. They are surgically placed beneath your gumline and into your jawbone to replace your missing teeth. The success of your implants depends on a remarkable process known as osseointegration. During the few months after your implants are placed, your jawbone actually grows around the implant post until they are essentially one and the same. The success of osseointegration, and by extension the success of your implants, depends on how much jawbone density you have. That's where a bone graft comes in.
What Is a Bone Graft and How Can It Help?
When you have been suffering through tooth loss for some time, your jawbone eventually atrophies because the roots of your teeth are no longer there to provide stimulation through biting and chewing. As a result, your jawbone is not strong enough to support dental implants. That's why a bone graft is sometimes necessary before implant placement.
A bone graft entails taking artificial bone tissue and surgically grafting it onto your jawbone. Over a few months, the artificial tissue will fuse with your jawbone, strengthening it so that it can support as many dental implants as you need.
Ultimately, a bone grafting procedure will add several months to your total healing time until you can receive your new teeth, but the wait will be well worth it to have a sturdy, supported smile that can stand the test of time. If your dentist tells you that you need a bone graft before you can get dental implants, don't worry. Now you know what to expect.
About the Author
Dr. Johnny Cheng has more than 500 hours of continuing education under his belt, with an emphasis on cosmetic dentistry. His professional memberships include the American Academy of Cosmetic Dentistry, the American Dental Association, the Texas Dental Association, and the Academy of General Dentistry. His practice, Hulen Dental in Fort Worth, TX, can perform the entire dental implant procedure under one roof. To learn more, you can contact Hulen Dental at (817) 292-5957.
Comments Off

on How a Bone Graft Can Help Your Dental Implant Thrive