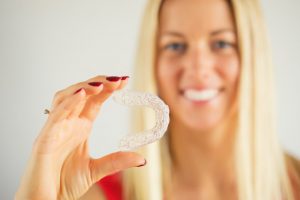 For years, you've desired to improve the appearance of your smile. Whereas in times past the only option for correcting misaligned, crooked, gapped or crowded teeth was to wear metal braces, a new era is upon us. You now have the option of choosing the Invisalign method to correct your bite, but what does the procedure entail? Furthermore, will your dental insurance cover this form of treatment? Read on to get the answers so you can move ahead with having your smile revamped!
What is Invisalign?
Unlike traditional braces, the Invisalign method corrects bite issues without the usage of any metal wires or brackets. Instead, it consists of a series of BPA-free, clear plastic trays that are custom-designed by your dentist to meet all your smile needs.
Here are the basic steps to the procedure:
Your dentist will first perform a thorough examination to ensure you have healthy teeth and gums.
Digital bite impressions are captured and used to create a custom smile plan.
A trusted lab uses the plan to create a series of clear aligners.
Once your aligners are ready, you'll retrieve them from your dentist with instructions to wear each set for two weeks. At the conclusion of each stage, you'll exchange them for the next pair in the series, following this pattern until the treatment process is complete.
Can Dental Insurance be Applied to Invisalign?
Typically, the Invisalign process isn't covered by dental insurance. However, when you contact your local dentist, you can ask if the practice offers any alternative financing programs.
The planning process starts, though, by visiting for an initial consultation. Based on your specific smile needs and whether you'll require any preliminary care to qualify for the procedure, your dentist will be able to provide an accurate cost estimate.
Why Invisalign is Worth the Investment
The Invisalign process is worth the investment for several reasons. For starters, its clear design allows for a discreet treatment process. Another important benefit is that by wearing the removable trays, you can perform your normal oral hygiene practices and maintain a regular diet.
An even more attractive perk for many patients is that with Invisalign, the usual treatment time of 24 or more months with traditional braces can be significantly reduced. This means you stand to gain the smile of your dreams on the terms that you like.
To "get the ball rolling," contact your dentist in Fort Worth today to request an initial visit. A life of greater confidence, a beautiful smile and positive interactions with other people awaits you!
About the Author
Since earning his dental degree, Dr. Johnny Cheng has remained eager about learning more. Thus, he has taken over 500 hours of continuing education, which includes advanced training at the Arrowhead Institute. Additionally, Dr. Cheng maintains professional affiliation with the American Academy of Cosmetic Dentistry, which contributes to him providing the absolute best in cosmetic dental care. He creates gorgeous smiles with Invisalign at Hulen Dental, and he can be reached for more information through his website.
Comments Off

on What is Invisalign, and Does Dental Insurance Cover It?