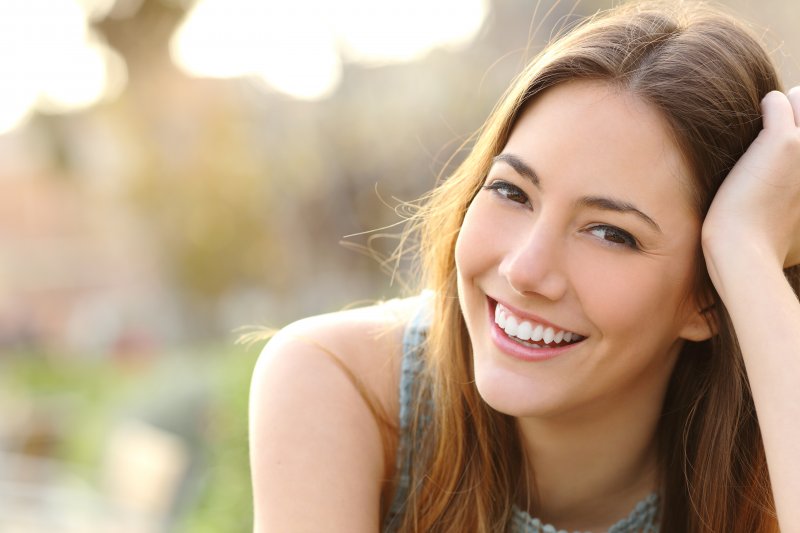 From dating to job interviews, having a beautiful smile can take you far in life. Unfortunately, almost no one is born with perfect pearly whites. With cosmetic dentistry, it's easier than ever to correct smile issues and gain a grin that you're proud of. If you're considering having some cosmetic dental work done, check out these seven traits that make for a beautiful smile so you know what to aim for.
#1: Bright, White Teeth
Discolored teeth are a common smile flaw that patients want to correct. Drinking coffee, tea, red wine, dark juices, cola, and other highly pigmented beverages can lead to dental staining, which will make your smile look duller than it once did. With professional smile whitening, you can remove years of stains for a whiter, brighter smile.
#2: No Chips or Cracks
Whether you have chips or cracks in your teeth from an accident or from biting something hard, they can keep your smile from looking its best. Porcelain veneers and dental bonding are great ways to cover them up and make your smile look more uniform.
#3: An Even Smile Arc
A person's smile arc describes how the biting edges of their upper teeth flow along the curve of their lower lip line. The ideal smile creates a slight upward curve and becomes narrower toward the ends. Orthodontics may be able to correct a misaligned arc.
#4: Gum Color
Healthy gums should be a pinkish color. Having a healthy gum color is a good sign that you're practicing proper oral hygiene. However, if your gums are red or inflamed, this will affect the amount of gums that is shown and may be a sign of gum disease. Your dentist can administer gum disease therapy to get the infection under control.
#5: No Silver Spots
Silver fillings and crowns used to be patients' only options for repairing decayed or damaged teeth. Though they help protect the tooth from further harm, they also stand out from the rest of your smile. Speak to your dentist about having them replaced with tooth-colored ones so the repaired teeth seamlessly blend in with your healthy ones.
#6: Evenly Spaced Teeth
Having gaps between your pearly whites can make your smile look less aesthetically pleasing and may also increase your risk of oral health issues like decay and gum disease. Dental bonding, porcelain veneers, or orthodontics can help close the gaps and give you a move visually appealing smile.
#7: Correctly Shaped Teeth
Misshapen teeth can make your smile look uneven. Porcelain veneers and dental bonding can make slight adjustments to the teeth to make them look more uniform. Dental crowns as typically used to repair damaged teeth, but your dentist may also consider them in some cases.
As you can see, there are many things that make for a beautiful smile. Luckily, numerous issues can be fixed using cosmetic dentistry to give you the gorgeous grin of your dreams!
About the Practice
A smile tells you a lot about someone. If you don't like what yours says, Dr. Johnny Cheng, Dr. Chris Thorburn, Dr. Greg Luk, and their skilled Fort Worth team at Fort Dental can help you achieve the grin you desire. They offer cosmetic services like gum lifts, dental bonding, Invisalign, porcelain veneers, and teeth whitening to correct problem areas and give you a more beautiful beam. Are you ready to set up an appointment or do you want to learn more about Fort Dental's cosmetic service offerings? Visit their website or call them at (817) 292-5957 to get started.
Comments Off

on 7 Traits of a Beautiful Smile