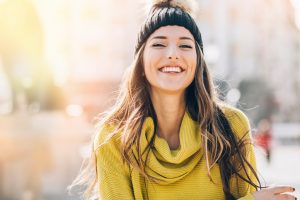 What bothers you about your smile? Is it tooth color? Does too much gum tissue cover your teeth? Do you have unsightly and embarrassing gaps? Don't let the expense and complexity of some cosmetic dental treatments scare you. Your cosmetic dentists at Hulen Dental, Drs.Thorburn, Cheng and Stovall, offer many aesthetic dental services that are very affordable and really easy. You could have the refurbished smile you have always wanted.
An Evaluation Comes First
To begin smile enhancements, your dentist will perform a complete oral examination to be sure your teeth and gums are healthy. Then, you and he will discuss how you would like your teeth and gums to change. The doctors at Hulen Dental always encourage changes that enhance your personal appearance–taking what Nature gave you and improving upon it. The result of your consultation is a personalized care plan that will boost one or many aspects of your smile–color, size of teeth, spacing problems and more.
Examples of Affordable Treatments
A smile makeover doesn't have to break the bank or take months and months to complete. Drs. Cheng, Stovall and Thorburn offer the following treatments as examples of services that make amazing changes quickly and economically.
Zoom! teeth whitening The mineral matrix we call tooth enamel retains staining organic material from foods, beverages, smoking and even prescription medications. Over time, stains deepen and detract from otherwise healthy smiles. Hulen Dental offers in-office Zoom! Whitening and a more gradual at-home version. Both treatments brighten tooth surfaces with peroxide gel. Color changes by as much as eight shades quickly and without investing thousands of dollars in more intricate aesthetic services.
Composite resin bonding This brief aesthetic service fills in small chips, cracks, gaps and overcrowding. Using a tooth-colored putty, the dentist sculpts new tooth shape and size, hardens the material with a curing light and polishes the results to a bright finish. Bonded teeth stay strong for several years with good oral hygiene at home.
Snap-on Smiles These innovative custom appliances fit snugly over top and/or bottom teeth that are gaped, crowded or poorly spaced. A budget-friendly and convenient alternative to orthodontics or porcelain veneers, Snap-on Smiles are comfortable and durable. After an exam and oral impressions, the dentist will have your new smile ready in just about three weeks.
Gum Contouring With precise laser technology, the dentists at Hulen Dental sculpt gum lines that are uneven or that extensively cover tooth surfaces. With little to no bleeding and no sutures, gummy smiles vanish, revealing a bigger, brighter smile in just one dental appointment.
What Can We Do for You?
Please don't think a beautiful smile is beyond your reach. Contact Hulen Dental to arrange a consultation with one of our doctors. Bring your questions and concerns and learn how dazzling your teeth and gums can be.
Comments Off

on Cosmetic Dentistry at Hulen Dental is Affordable