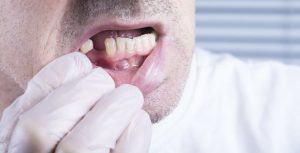 Do you have a missing tooth that needs replacing? Waiting too long to have a tooth replaced can be harmful to your oral health. Not only does it not look aesthetically pleasing, but that vacated spot in your mouth can also create a domino effect if you're not careful. Missing teeth can result in bone loss, causing nearby teeth to become loose and potentially fall out. If you're looking for a solution for your missing tooth, dental implants are a great solution. Find out why.
Why Should I Replace a Missing Tooth?
If maintaining a healthy, comfortable, and fully functioning smile is vital to you, then replacing a missing tooth should be of the utmost importance. Whether you lost your tooth due to injury, decay, damage, or disease, your dentist in Fort Worth can restore your smile to its natural beauty with the help of dental implants.
However, if you choose to avoid or delay having a tooth replaced, you can expect one missing tooth to turn into a whole mouth full of missing teeth. This is because when a tooth falls out or is extracted, the bone has nothing to keep it stimulated. It will begin to resorb into the body, creating a weakened jaw, which will reduce your biting force and make it hard to chew. Now, that doesn't sound like fun, does it?
What Makes Dental Implants the Perfect Solution?
To prevent this crucial bone from deteriorating, your dentist can suggest dental implants to replace the missing tooth and keep your smile healthy and strong. Dental implants act as a tooth's root. Made of titanium, your dentist will surgically place the implant into the jawbone. Over the period of a few months, it will fuse to the bone, providing for better stability. Once you've healed, your dentist will place a customized crown on top of the implant that will blend in seamlessly with the rest of your natural smile.
A few of the benefits associated with dental implants include:
Stability. They are surgically placed, preventing your tooth from loosening or shifting.
Easily maintained. Simple brushing, flossing, and rinsing will be enough to care for your dental implant.
Long-lasting. On average, dental implants have a 98% success rate and can last decades!
Inability to develop cavities. While this doesn't mean you can avoid regular dental hygiene habits, it's reassuring to know your implant is protected from decay because of its inorganic material.
It is important that you have good bone strength and healthy gums if you want to be considered as a candidate for dental implants. If you're a smoker, your body's immune system makes it difficult to heal quickly, and it can prevent the implant from fusing to the bone, resulting in implant failure.
Whether you need one tooth, consecutive teeth, or all your teeth replaced, dental implants can work for you. Talk to your dentist to find out if you are a candidate for this tooth replacement solution.
About the Author
Dr. Johnny Cheng graduated from Baylor College of Dentistry before joining Hulen Dental in 1999. Creating beautiful smiles for his many patients, Dr. Cheng understands the benefits of maintaining a healthy smile. Therefore, he and his colleagues work hard to provide comprehensive services to patients, using modern tools and technology. To learn more, contact us at (817) 292-5957.
Comments Off

on Want to Prevent Bone Loss? Replace Your Missing Teeth with Dental Implants