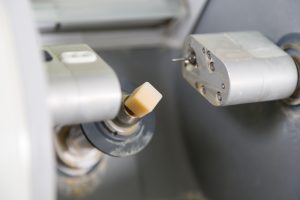 Between crowns and porcelain veneers, you're wondering what procedure is the best option to enhance your smile's function and look. While both can improve aesthetic flaws, there are some differences to note depending on the particular dental situation you find yourself in. Your dentist breaks down the differences between each procedure and what one might be best option for you below.
What Are Crowns?
A dental crown is a durable cap that covers your entire damaged or worn-down tooth. It can be made of a variety of materials including various metals, porcelain, or a combination of both. These restorations are typically twice as thick as porcelain veneers, making them more resistant to wear-and-tear.
What Are Veneers?
Porcelain veneers are strong and durable thin porcelain shells that are made to cover the visible portion of your affected teeth. They can improve a variety of aesthetic imperfections and improve both the appearance and function of your existing teeth.
When Are Porcelain Veneers The Best Choice?
If you're looking to primarily improve the look of your teeth, veneers are a great option. They can repair cosmetic issues such as discoloration, chips, cracks, gaps, and misshapen and misaligned teeth to make your smile appear straight and bright. The color is specifically matched to blend in with your natural teeth so there is virtually no visible difference between them.
Dental veneers also boast a number of benefits and can last up to 15 years when properly cared for. Additionally, because they're stain resistant, you won't have to worry about them becoming discolored over time like you would with alternative procedures such as cosmetic bonding.
When Are Dental Crowns The Best Choice?
If you're looking to improve the function of your teeth rather than fixing aesthetic issues, dental crowns are probably the best solution for you. When teeth are badly damaged and left susceptible to being attacked by harmful oral bacteria, dental crowns can help restore their strength and protect them from further damage and extraction.
Once your crown is made, it's cemented into place over the top and shields your existing tooth from bacteria and infection. Also, if your teeth are damaged and worn down due to grinding, because crowns cover your entire tooth and not just the visible surface, they're able to provide you greater protection than porcelain veneers.
With proper care, both of these restorations should last anywhere from 10 to 15 years. Keep in mind that whitening treatments don't work on these restorations, so it's important to brush and floss regularly to keep them looking great. If you're having doubts about what restoration is the best option for you, discuss your options and concerns with your dentist. They can help give you the peace-of-mind you need to feel confident in your decision.
About the Practice
At Hulen Dental, we offer the knowledge and experience of three dentists. They focus on utilizing the most advanced technology and treatments to provide their patients with the best quality of care. They offer CEREC same-day crowns so that their patients don't have to carve extra time out of their busy schedules and can get the treatment they need in a single visit. Plus, we were named the CEREC Office of the Month in August of 2005 for using the most advanced state-of-the-art technology to revolutionize patient care. For questions or to schedule an appointment, visit our website or contact 817-292-5957.
Comments Off

on A Dentist Discusses The Difference Between Veneers And Crowns