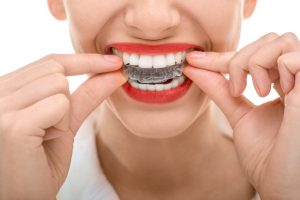 When most people think of orthodontic treatment, their first thought is about improving the appearance of a smile. That is certainly an important and primary consideration. But did you know that braces could also be used to improve the health of your smile, too? A straight smile is often an indication that your teeth are clean and your bite is well aligned. The dentist in Fort Worth offers Invisalign to give you a smile that is both healthy and attractive. Read on to learn more about this method of orthodontic treatment.
How Can Invisalign Improve Oral Health?
Like other methods of straightening your teeth, Invisalign can help improve your overall oral health. First, once your teeth are straightened you'll have an easier time cleaning them. A toothbrush can more effectively clean teeth that are aligned, because surfaces do not overlap, which can make portions of a tooth difficult to reach.
Similarly, flossing is a breeze with teeth that are straight. When you can floss well, you reduce the chances of plaque buildup along the gum line, which can ultimately lead to gum disease and other oral and general health problems.
Secondly, if you know that you grind your teeth, then Invisalign can help alleviate this problem, too. Habitual grinding and clenching—also called bruxism—is often the result of malocclusion, or a bite that is out of place. This may even lead to persistent headaches and other symptoms of temporomandibular joint disorder, or TMD. Invisalign will reposition your teeth so your bite is in alignment and teeth grinding stops.
How Does Invisalign Work?
Invisalign is like traditional braces in its ability to improve the health of your smile, but unlike other orthodontic treatments in approach. Traditional braces use metal brackets and wires to move your teeth into position. Invisalign, on the other hand, relies on clear plastic mouth trays to achieve the same results. The difference is obvious—Invisalign accomplishes the goal almost imperceptibly. Each pair of Invisalign aligners fits snuggly over your teeth. In normal social and professional encounters, hardly anyone will be able to tell that you're wearing braces.
What are Some Other Invisalign Advantages?
In addition to being clear, Invisalign braces are also removable. Whenever you want to eat a meal or snack, all you have to do is take out your aligners and enjoy all the foods you normally eat. There's no need to eliminate certain foods, which is usually the case with traditional braces.
Likewise, you'll remove the aligners when it's time to brush and floss your teeth. Without any braces in the way, you'll better be able to clean your teeth, which can help you avoid cavities or the development of gum disease during your orthodontic treatment.
Contact Us for Invisalign
If you're ready to straighten your teeth for the sake of appearance as well as oral health, then consider Invisalign in Fort Worth. Contact Hulen Dental today to schedule a consultation.
Comments Off

on The Dentist in Fort Worth Offers Invisalign® for a Healthy Smile