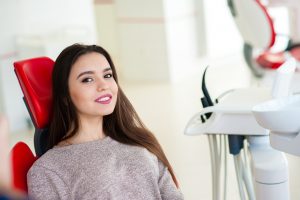 Everyone should visit their dentist twice a year—that's really not that often. It's important to take advantage of these opportunities and learn as much as you can about keeping your mouth clean and in great shape. If you find yourself lost for words at your appointment—and not just because your mouth is open—you can ask your dentist in Fort Worth these 5 questions to get the most out of your next dental visit.
 What can I do to improve my overall dental health?
Everyone's mouth is different, and some mouths take more work to maintain than others. Dentists can evaluate your current oral state and develop a personalized dental treatment plan to help you improve your oral health.
They can advise you on whether you need to brush more often or switch to different dental products. Plus, your dentist will be able to tell if you're flossing at all or not. Don't feel silly asking questions. After all, your dentist is here to help.
How will the practice improve my oral health?
Just because you're improving your oral health at home, doesn't mean that your smile doesn't need professional attention. Your dentist will be happy to explain what role they play in your personalized dental treatment plan. Whether you just need more frequent dental cleanings or a specialized procedure, you should always feel free to ask what they are doing to be proactive in improving your oral health.
Is there anything I should tell my general practitioner about?
Little do many patients know, oral health is directly correlated to the rest of your body. Your dentist may be able to spot abnormalities that reflect problems with your systematic health. For instance, if you have red, swollen gums or the start of gingivitis, you could also have diabetes. Sometimes, your dentist may recommend discussing the findings at your dental checkup with your general health practitioner.
What is my overall health status?
As mentioned above, your dentist can see much further than what's going on in your mouth. Although your dentist will already mention these things, you should always feel comfortable discussing your health with your dental expert. They may have valuable insight that you wouldn't be able to notice otherwise!
Is there anything you need to know from my general practitioner?
In the case that you have a dental procedure or treatment coming up, you'll be prompted to explain your medical history to your dentist. This helps your dentist to avoid any medications that you may be allergic to, change your dental treatment plan according to any disorders or health concerns that you already have, and complete dental work that will really be successful for you.
All in all, it's important to be open with your dentist. That means asking questions when you have concerns about your oral health.
---
About Our Office
Here at Hulen Dental, we work to create a dynamic dental office by working together with our office and meeting each and every one of our patients needs. Feel free to contact one of our dentists to schedule your next informative appointment here at our local Fort Worth office.
Comments Off

on Ask Your Dentist in Fort Worth These 5 Questions!