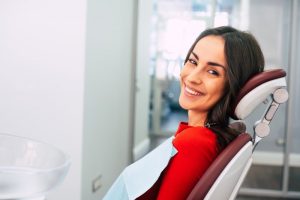 Does the sound of a dental drill fill you with dread? You're far from the only one; according to one study, about 60% of people around the world suffer from a form of dental fear, and one-third of the United States population avoids the dentist altogether because of these anxieties. Luckily, this is one situation where modern technology could make all the difference. Here's why fearful patients might benefit from a dentist who uses a Solea laser.
What is the Solea Laser?
While other dental lasers are primarily used to remove and treat gum tissue, the Solea laser is unique in that it operates on a wavelength that can vaporize the hard enamel layer that protects your teeth. This gives your dentist the ability to use the laser anywhere in your mouth at any angle. Furthermore, the power and speed of the beam is controlled by a computer, allowing for extremely accurate and efficient treatments.
What Sort of Treatments is Solea Used For?
Practices with the Solea laser can use it to enhance all kinds of dental procedures. For example, they can remove small amounts of enamel and prepare your teeth for a filling, crown, bridge or porcelain veneer. They can also reshape your gum tissue for cosmetic purposes or to expose more of the tooth's structure before another procedure. In many cases, Solea can even be used during dental implant surgery to remove bone and gum tissue so that the implant post can be placed.
How Can Nervous Patients Benefit from the Solea Laser?
If you're nervous about seeing the dentist, there are many reasons why laser dentistry could help you:
Improved Comfort: Treatments performed with a Solea laser are generally far more comfortable than those performed with traditional tools. In fact, in many cases it can eliminate the need to numb the patient's mouth!
Less Bleeding, Faster Healing: The laser will cauterize the wounds it creates; not only does that mean you'll see less blood, but it will also make the recovery process much faster.
Speed: Don't want to spend too much time in the dental chair? Procedures performed by the Solea laser tend to be significantly faster, meaning you'll be leaving the office and heading back to your home or to work that much sooner!
Quieter Treatment: A laser won't produce the high-pitched whine of a dental drill that can agitate certain patients.
Talk to your dentist about your dental anxieties today and see what services they offer that might help you keep calm during your visit. If the Solea laser is available, be sure to ask how it could be used to enhance any treatments you need. Let laser dentistry give you the confidence you need to overcome your fears and keep your smile looking healthy and bright!
About the Practice
At Hulen Dental, our three dentists use advanced tools and technology so that they can always bring you the best that modern dentistry has to offer. We are one of only 700 dentistry providers in the United States that offers the Solea laser system, and we utilize it on a daily basis for various procedures. To schedule an appointment at our Fort Worth practice, visit our website or call (817) 292-5957.
Comments Off

on Solea Laser: An Advanced Way to Help Patients Overcome Their Dental Fears