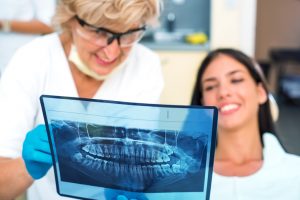 For the best in dental procedures, great dentist/patient communication and excellent patient reviews, come to Hulen Dental, your dentists in Fort Worth. Drs. Stovall, Cheng and Thorburn are highly trained professionals who retain membership in many professional associations, including the American Academy of Cosmetic Dentistry. Plus their satisfied patients, as indicated by great, five-star testimonials, show that this team delivers quality care that's trusted. Learn here about emergency dentistry, Invisalign clear aligners, gum lifts and full mouth reconstruction, just some of the outstanding services Hulen Dental provides. What can they do for you?
Emergency Dentistry
If you are in pain from a toothache or fractured a tooth in an accident, you want the best dental care fast. At Hulen Dental, the entire staff is committed to bringing your teeth and gums back to full health. The first step in that process is availability.
Patients with pressing oral health needs such as avulsed teeth, dental abscess or oral laceration can call Hulen Dental and receive fast attention with a compassionate touch. The staff will direct you in first aid (for example, replacing a lost tooth into the socket) and will get you in for an appointment as soon as possible.
Not only will your oral function be restored, but your smile aesthetics will, too. Hulen Dental offers a full range of restorative services including root canal therapy, white fillings, CEREC same-day crowns, and state of the art tooth replacements. Your smile damage will be reversed quickly and comfortably.
Gum Lifts
This cosmetic treatment removes excess gum tissue, lengthening the amount of exposed tooth surface for a more pleasing smile line. The doctors at Hulen Dental do this using an innovative soft tissue laser. There are no scalpels, extensive bleeding or sutures involved with laser sculpting of gummy smiles, and recovery time is fast. Gum lifts also make room for restorations such as dental crowns
Full-mouth Reconstruction
People with extensively damaged smiles or who have a several cosmetic issues receive personalized reconstructive services. The dentist reviews the patient's needs with oral examination and X-rays and also considers how the patient desires to see his or her smile improve, considering such elements as:
Restoration (replacement of old fillings and crowns)
Tooth replacement with implants, bridgework or dentures
Gingival health
Need for extraction
Enhancement of cosmetic elements such as tooth color, shape and alignment
Need for sedation dentistry options
Whether reconstruction is simple or complex, the dentist fully explains treatment options and considers the patient's commitment of time and finances.
Invisalign Clear Aligners
Drs. Stovall, Cheng, and Thorburn love helping people achieve smile goals they thought were out of reach. Take, for instance, the older teen or adult who desires a well-aligned and attractive smile but shies away from metal or ceramic braces. Hulen Dental offers Invisalign clear aligners, the modern way to a perfect smile.
Invisalign features these advantages over traditional orthodontics:
Removability
Comfort
No dietary restrictions
Normal brushing and flossing
Discreet appearance
Fewer orthodontic appointments
No oral abrasions or sore spots
Quicker treatment time (about one year is average)
If Invisalign is right for your mild to moderate alignment issues, Hulen Dental can walk you through the complete evaluation, placement and treatment process.
How Can We Help You?
Routine preventive care is so important, and restorative and cosmetic services will fill out your exceptional experience with Hulen Dental. Learn more about what we can do for your smile by contacting the office today for an appointment.
Comments Off

on Dentists in Fort Worth Provide Trusted, Quality Care