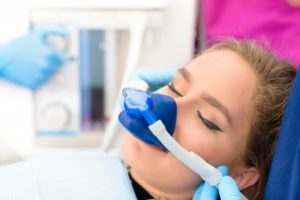 In general, most people don't enjoy going to the dentist. This can lead to procrastinating attending appointments or sometimes not even going altogether. But luckily there is a solution—dental sedation! Read on to learn five reasons that it could be right for you.
#1. You Have Dental Anxiety
Research has found that 36% of Americans have severe anxiety about going to the dentist. This can cause them to avoid dental visits. Unfortunately, if you neglect to receive necessary treatments, the more costly your oral health problems can become. With dental sedation, you can relax and keep your teeth healthy.
#2. You Have Oral Sensitivity
The oral tissues, like your gums, are soft and some people experience more sensitivity than others to certain procedures or treatments. This can be easily solved with sedation methods. Throughout your visit, you will not feel any of the activity in your mouth. Your dentist will be able to work efficiently as you relax in the chair.
#3. You Are Uncomfortable at Dental Appointments
When you visit the dentist, there are certain sights and smells that are common. From the smell of latex gloves to the sound of dental instruments, these sensitivities can make it difficult to relax during an appointment. Also, if you have jaw, neck, or back issues, it can uncomfortable to sit in the chair throughout your treatment. With sedation dentistry, you can feel more at ease so that you can receive the treatment you need to preserve your smile.
#4. You Are Scheduled for a Longer Procedure
For the most part, people are able to handle minimal discomfort for a short appointment. However, many struggle with sitting for longer periods of time for more intensive procedures – and that's completely understandable! If you know your treatment will require more time, you can ask about sedation dentistry to keep you at ease throughout the process.
#5. You Want to Feel Relaxed, but Still Conscious
One of the benefits of sedation dentistry is that you are awake during your appointment and it just provides varying degrees of relaxation. For example, nitrous oxide is the mildest form of sedation that is administered through a nasal mask. You'll feel calmer within moments of breathing in the odorless gas, and able to react to your dentist like normal. Another option is oral conscious sedation, also known as anti-anxiety medication. This will provide a deeper level of calmness and you may feel drowsy after your visit, but you'll remain aware enough during your appointment to respond to verbal commands.
With sedation dentistry, there will be no need to delay or forgo your dental appointment…you can remain relaxed as you keep your smile healthy and bright!
About the Practice
Fort Dental serves Fort Worth and the surrounding areas through the expertise of its team of dentists. They provide a wide range of services, including preventive, restorative, cosmetic, and emergency care. No matter what your oral health needs, they can help you accomplish your smile goals with the use of sedation dentistry! To schedule a consultation, contact them through their website or call (817) 292-5957.
Comments Off

on Are You a Good Candidate for Sedation Dentistry?