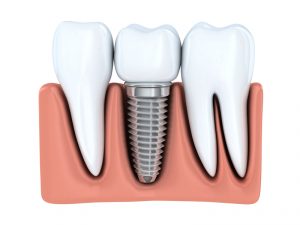 You partner with your dentist to take good care of your teeth and gums. Unfortunately, tooth loss can occur anyway through oral injury, decay or gum disease. The dentists at Hulen Dental offer the premier standard in tooth replacement: dental implants. These prosthetics look, function and feel just like natural teeth.
Why Get Dental Implants in Fort Worth?
Dental implants solve many problems associated with missing teeth in Fort Worth:
Speech issues (slurring)
Problems with biting and chewing
Embarrassing smile gaps
Prematurely aged appearance
Gum recession
Deterioration of jawbone
Misalignment and weakening of teeth adjacent to a smile gap
Having to remove and clean prosthetics such as partial dentures
Continual replacement of traditional dentures and bridgework
Oral irritation from dentures
Dental implants are artificial teeth, comprised of titanium implant devices, metal posts, and  lifelike porcelain crowns. Each one screws into the jaw bone during an in-office procedure at Hulen Dental. With this foundation, dental implants are stable and actually exercise the bone every time a person eats. Multiple implants support partial or full dentures, too, giving patients optimal security and aesthetics.
How They Work
Years ago, a Swedish physician found that human bone is attracted to titanium metal. Through a process called osseointegration, the jaw bone wraps around the dental implant.
So, when a dentist places an implant, the bone adheres to it over several weeks of post-operative healing. After attachment of the extension and crown, the dental implant patient has a durable and realistic tooth. Studies show that dental implant surgeries boast a success rate (up to 98 percent) and stay in place for years.
Unlike fixed bridgework and dentures, dental implants transfer substantial physical forces to the jaw when patients bite and chew. This "exercise" keeps the jawbone dense. Traditional tooth replacements simply rest on top of the gums.
Additionally, dental implants do not compromise surrounding teeth. Fixed bridgework, comprised of two porcelain crowns and one, two or more artificial teeth in a row, requires substantial enamel preparation on natural abutment teeth. Traditional partials attach to natural neighbors via metal clasps which wear down enamel.
Who Can Receive Implants?
Healthy older teens and adults with dense bone qualify for dental implants. People with brittle diabetes or undergoing cancer therapy should postpone implants as should pregnant or lactating mothers. Additionally, good candidates are non-smokers with regular oral hygiene habits–flossing and brushing at home and seeing Drs. Stovall, Cheng and Thorburn for six-month exams and cleanings.
While dental implants cannot decay, they can get an infection resembling gum disease. Called peri-implantitis, this condition often requires implant removal. Regular at-home and in-office hygiene is critical to remove bacteria-laden plaque and tartar at implant sites.
Treatment
From consultation to healing, the implant procedure takes several weeks to months. The implant site must heal so the device tolerates the physical forces of biting and chewing.
Regarding costs, dental implants are more expensive at the outset than traditional bridgework or dentures. However, because of their high success and retention rates, durability and longevity, implants cost less over time. Typical bridgework and dentures last no more than ten years.
Get Your Questions Answered
If you are faced with tooth extraction or already have smile gaps, explore dental implants at Hulen Dental. Contact the office today to arrange your personal consultation.
Comments Off

on Impact of Dental Implants from Your Fort Worth Dentist