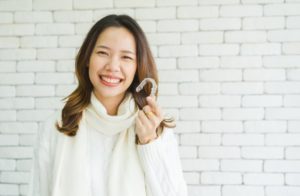 Many people wear braces when they're younger in order to help straighten their teeth, but once those brackets and wires are removed, their teeth begin to shift back out of alignment again. If you find yourself in this predicatment, you may be ready to have a straighter smile again, but perhaps you're unsure of the options available to you. The good news is, even if braces weren't successful for you, Invisalign in Fort Worth could do the trick. Keep reading ot find out how.
Invisalign After Braces – How Does it Work?
A lot of people assume that once they have had teeth straightening treatment, their one shot at a straighter smile is past. Fortunately, that's not the case at all! With all the advancements in cosmetic dentistry over the past several decades, you can now achieve the smile of your dreams without the pesky brackets and wires (even if you've had them before). Here are several of the most common issues Invisalign can fix:
Misalignment: If teeth begin to shift back to their old ways, a series of Invisalign trays can act as a guide that trains them to realign themselves naturally. No more tightening of wires.
Overbite or Underbite: One of the least enjoyable things you may remember about braces are the rubber bands that attach to brackets on the upper and lower row of teeth. These are used to pull the jaw forward or backward depending on the direction of the bite. With Invisalign, there are built-in appliances that do this without the use of bands that tend to snap in your mouth or get easily lost.
Gaps: Depending on your specific smile, you may have more or less room in your mouth. It's not uncommon for teeth to shift after braces are removed to fill in empty space in the back of your mouth, especially if you have had your back four molars, or wisdom teeth, removed. This can lead to gaps that are more noticeable in front of the smile. Invisalign can correct this by training the teeth to stay in place, without any brackets or wires involved.
If you've been burned by an unsuccessful bout with braces, don't give up! Talk to your dentist about how you can still have the smile of your dreams without the sacrifice, thanks to Invisalign!
About the Practice
The team of doctors at Hulen Dental in Fort Worth understands how important it is to each of their patients to have the confidence that comes with a straighter smile, and they will do everything possible to help them achieve that dream. With combined years of experience and sharpened skills, they are your best choice for Invisalign in Fort Worth. Are you ready to be proud of your smile again? Schedule a consultation online, or call us at (817) 292-5957.
Comments Off

on Can You Get Invisalign After Having Braces?