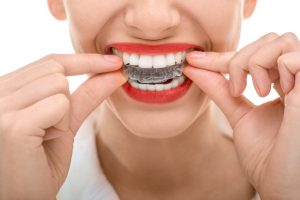 When you smile or laugh, you cover your mouth, feeling embarrassed about your poorly aligned teeth. Invisalign clear aligners from Hulen Dental in Fort Worth straighten smiles comfortably, invisibly and quickly. Teens and adults love the treatment benefits and results! Find out if you can, too.
Invisible Treatment
So clear and discreet that few people notice them, Invisalign aligners in Fort Worth provide the orthodontic correction many older teens and adults long for without the inconvenience and poor aesthetics of standard metal wire and bracket braces. Almost immediately, Invisalign patients at Hulen Dental receive a boost in self-confidence as they know they are on their way to beautiful, healthy smiles.
Customized from BPA-free, durable acrylic and fitting snugly over top and bottom teeth, these invisible appliances move teeth into healthier positions in a treatment time of approximately one year. Metal or ceramic braces take double that time or even more, depending on the complexity of the case.
Appropriate for mild to moderate orthodontic correction, Invisalign aligners may be removed for easy cleaning. Just brush, rinse and replace. In addition, the aligners :
Cause no soft tissue irritation common with metal or ceramic braces
Do not restrict dietary choices (go ahead and eat bagels or nuts)
Require no complex oral hygiene routines (remove and floss and brush as usual)
Require no complex or uncomfortable adjustments
Typically, Invisalign patients wear 18 to 30 aligner pairs during the course of treatment. Each pair is worn for 20 to 22 hours per day, and it's changed every 2 weeks or so. The patient sees Dr. Stovall, Cheng or Thorburn every 4 to 6 weeks for a progress check and to receive the next pairs of aligners in the treatment plan.
Candidates for Invisalign
Older teens and adults who wish to enhance their smiles and can comply with the treatment plan make great candidates. Through oral examination, photos, and digital X-rays, the dentist determines if Invisalign is the right course of treatment. If so, he submits a care plan to the Invisalign lab where a technician individually crafts the aligner pairs according to a three-dimensional model of the patient's mouth. This attention to detail is a big reason why Invisalign works so well for so many people.
Invisalign corrects many mild to moderate alignment issues, such as:
Tooth rotation
Overbite
Underbite
Cross bite
Open bite
Overjet (protruding front teeth)
Gaps
Overcrowding
Benefits of Invisalign
Patients like that no one can really tell they have "braces." Also patients enjoy that the aligners are removable; so they can take them out for brushing and flossing, for meals and for special events such as professional presentations or weddings.
Most importantly, patients like the results: no more embarrassment over a less than perfect smile. Plus, a well-aligned smile is easier to keep clean; so decay and gum disease are less problematic. Invisalign smiles boost self-image and make that all-important first impression a really good one.
Is There Invisalign Dentist Near Me?
Yes, there is! Contact the office team at Hulen Dental for a orthodontic consultation. The dentist will tell you if Invisalign clear aligners are your best treatment option. Highest rated in Tarrant County by Angie's List, your dentists at Hulen Dental want your smile to be its healthiest and most attractive ever.
Comments Off

on Invisalign In Fort Worth has Many Benefits