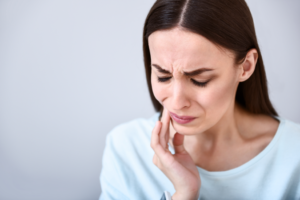 Facial pain is something that all of us must endure every once in a while—and whether it's a throbbing headache, a nagging toothache, a sore jaw, or something else entirely that's triggering your distress, it can be quite debilitating at times. But how are you supposed to know when your discomfort warrants emergency treatment? Here are a few of the most common reasons for facial pain, along with how to know when your situation necessitates a trip to your trusted emergency dentist.
Common Causes for Facial Pain
It's worth mentioning that facial pain isn't actually a condition—rather, it's an umbrella term used to characterize uncomfortable, painful symptoms that are felt in the face, cheeks, forehead, or other surrounding areas. The cause isn't always obvious, and it can vary greatly in terms of intensity, location, and duration. A few common causes for this pain include things like:
Tooth decay, gum disease, or other untreated dental issues
Dental abscesses, which are infections that target the inside of teeth
Nerve damage
Traumatic physical injury
Headaches and migraines
Bruxism (teeth grinding)
Sinus infections
Dry sockets following tooth extractions
Other underlying medical conditions
Is My Facial Pain an Emergency?
There is no simple answer here since every situation is different; facial pain can sometimes be easily treatable, while other times, it'll require urgent assistance. But in any and all cases, it's important to realize that delaying proper treatment will always lead to things becoming worse. Even if your pain seems minor, it should still be treated—big problems often start small, and early diagnosis is the key to treating the issue before it turns serious.
For example, something like a dental abscess won't magically begin healing on its own—often, these situations rely on root canal therapy or other restorative treatment options to be handled. Other issues such as severe decay or gum disease are relatively widespread and can be addressed with various means including fillings and periodontal therapy, respectively. For issues affecting the jaw like bruxism, custom-designed oral appliances can be utilized.
Once the root of the issue has been identified, your emergency dentist will quickly begin taking steps to get things back on track. Your smile is too important for it to suffer needlessly; it's a source of confidence and joy for you and those around you!
About the Practice
The Fort Dental team has proudly served patients and families in the Fort Worth, TX area for several years. The practice is fortunate to house three skilled specialists: Dr. Cheng, Dr. Thorburn, and Dr. Luk, all of whom have numerous years of experience and vast expertise in a wide range of fields. If you have any questions about the article or you or a loved one is suffering from facial pain, don't hesitate to contact the practice today for assistance. Telephone: (817) 292-5957.
Comments Off

on Is My Facial Pain a Dental Emergency?