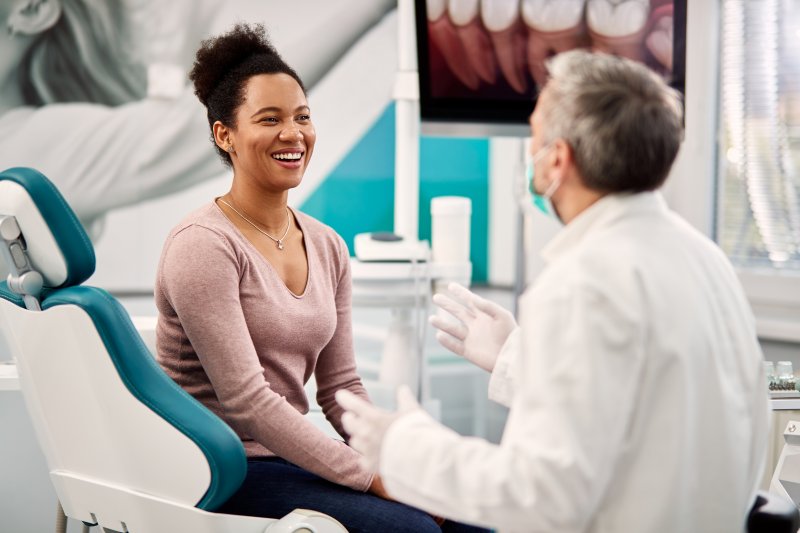 Dental implants are one of the most popular ways to replace missing teeth. This is because they are incredibly durable and come last decades with proper care. They are also the only option that reproduces the roots of the teeth as well as the crown. But exactly how long can you expect your dental implants to last? Continue reading to learn about the lifespan of dental implants as well as what you can do to make your new smile last as long as possible.
How Long Do Dental Implants Last?
On average, dental implants last around 15 years. Even so, this number can vary quite a bit depending on how well you take care of them. In some cases, dental implants can last upwards of 30 years. In other cases, they may even last a lifetime. One of the most important parts of dental implant care is practicing excellent oral hygiene. This will help you prevent cavities, gum disease, and other issues that may lead to implant failure or additional tooth loss.
4 Ways to Extend the Dental Implant Lifespan
There is a range of ways that you can extend the lifespan of dental implants. A few options include:
Avoid bad oral health habits – Avoid drinking excessively, smoking cigarettes or using other tobacco products, consuming too much sugar, and using your teeth to open bottles and packages. These are all things that may cause your dental implants or your natural teeth two break or fail.
Practice oral hygiene at home – Brush Once in the morning and once at night for two minutes each time. additionally, be sure to floss every night to get rid of plaque and food particles stuck between your teeth. You should also rinse your mouth out with mouthwash regularly to get rid of excess bacteria.
Eat a mouth-healthy diet – Be sure to Eat foods that are good for your smile, such as fish, lean meat, nuts, fresh fruits and vegetables, and dairy products.
Visit your dentist – Schedule Dental checkups and cleanings every six months so your dentist can ensure that your implants and your natural teeth are in good condition.
Taking care of your dental implants may seem a bit daunting at first, but it isn't much different from caring for your natural teeth. Just make good decisions about your oral habits, visit your dentist for biannual checkups, and practice good oral hygiene to keep your new smile in good condition for years to come!
About the Practice
If you are a resident of Fort Worth or one of the surrounding communities in need of an excellent dentist, your smile will be in good hands with Fort Dental. They take pride in the services they offer, such as dental implants for smiles missing one or more teeth. They can also give you tips on how to extend the lifespan of dental implants so you can enjoy your new smile for as long as possible. If you want to learn more about dental implants or to make an appointment with Fort Dental, visit their website or call them at (682) 312-3419.
Comments Off

on Lifespan of Dental Implants: How Long Do They Last?