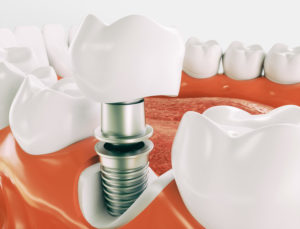 With over 5 million dental implants placed each year, implant treatment is one of the most popular ways to replace missing teeth in Fort Worth and across the country. However, many patients hesitate when they first see the cost of implant treatment. Although dental implants may cost more upfront, they are still a wise investment in the long term. Are you missing one or more teeth? Don't miss the information below on the different parts of a dental implant and how to budget for implant treatment.
Parts of a Dental Implant
A dental implant is made up of several parts that work together to replace missing teeth from the roots up. The 3 main parts of dental implants include:
Post – The implant post resembles a screw and is surgically inserted into the jawbone where the tooth is missing. Typically made from biocompatible titanium, the implant post fuses with the surrounding bone over the course of several months. In this way, the post replaces the missing tooth root structure and acts as a sturdy anchor for a replacement tooth.  
Abutment – An abutment is a small metal fixture that serves as a connector between the post and the restoration. Abutments are typically attached to an implant post after it has already fused with the jawbone.
Restoration – If you are replacing a single tooth, a crown will be either screwed or cemented onto the abutment. If you are replacing multiple teeth, a bridge or denture will be attached to one or more implants.
Does Dental Insurance Cover Implant Treatment?
Although every insurance policy is different, many do not include full coverage for dental implants. However, in some cases, patients can use their insurance benefits to reduce the costs of certain treatment steps, such as tooth extractions or sedation. The restoration piece of the dental implant is also often covered by dental insurance.  
In addition, many patients who seek dental implants must first undergo certain preliminary treatments, such as gum disease therapy or a bone grafting procedure. Both of these procedures can be critical to preventing implant failure. In many cases, dental insurance will cover these types of preliminary treatments.
How to Budget for Dental Implants
Worried about the overall cost of dental implants? You can work with your dentist to maximize your dental insurance coverage and reduce your out-of-pocket treatment costs.
For example, implant treatment requires multiple appointments and is completed over the course of several months. Due to this fact, your dentist may recommend beginning treatment near the end of the year. If you have already met your deductible but have not reached your annual maximum, you may be able to use up your remaining benefits this year, then take advantage of your renewed benefits in 2021.
For more tips like this, do not hesitate to ask your dentist about dental implants and how to best budget for implant treatment. He or she will gladly help you maximize your insurance benefits while restoring your smile to its full glory.
About the Author
Dr. Johnny Cheng is the dental professional Fort Worth residents trust to help rebuild their smiles with dental implants. Dr. Cheng's outstanding service has even been highlighted in Fort Worth Magazine, where he has been recognized for six straight years as a "Top Dentist" in the area. To learn more about dental implants, visit the Hulen Dental website or call Dr. Cheng at 817-292-5957.
Comments Off

on Need Dental Implants? How to Plan for Implant Treatment