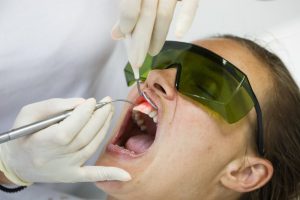 One of the most common reasons people avoid seeing the dentist is because they fear that it will be a painful experience. In the past, this may have been an issue, especially if you had extensive dental work to get done. However, anesthesia has improved dental care over the past several decades. Today, there's a new advancement worth considering: laser dentistry with Solea.
The Solea dental laser has been around for a long time, but it's only now getting into the hands of dentists around the country. Learn how this technology can improve every facet of your dental care visit!
What is the Solea Laser?
The Solea Dental Laser is a device specifically designed to make receiving and performing dental treatment easier and more effective. It can be used to perform treatments as basic as a dental cleaning or as comprehensive as gum therapy and recontouring. It utilizes a specific wavelength to get the job done and is a crucial part of how the device works so well.
The Solea dental laser is unique because it is capable of performing a wide variety of soft and hard tissue treatments. Other lasers are typically designed for one or the other, but Solea's unique CO2 laser is truly one-of-a-kind because of this feature.
Improved Comfort During Treatment
As mentioned, dental lasers are meant to make your overall treatment experience more comfortable and pain-free. Unlike traditional dental tools which are made from stainless steel, dental lasers only require light energy to get the job done. Less probing and contact with metal tools means less risk of you feeling uncomfortable during your treatment.
With greater precision and less invasive dental tools, many treatments can be more comfortable to receive. This includes dental fillings, decay removal, gum reshaping, bacteria removal during root canal therapy, and even canker sore removal.
Even though your tooth and surrounding gum tissue is numbed during root canal therapy, dental lasers make it easier to reduce the amount or need for anesthesia during such a procedure. The very infection that's causing you pain can be directly alleviated through laser therapy.
Better Aftercare, Less Discomfort
Of course, we couldn't talk about improving your comfort without talking about aftercare. Many restorative treatments force people to go into a recovery stage after treatment. This is typically the case if they need sutures or stitches, therefore prolonging the healing process.
People tend to associate root canal therapy and dental fillings with pain because of the soreness that often comes after. The Solea dental laser is designed to treat oral structures more exactly and conservatively, meaning your mouth requires far less time to recover after treatment. That means once your care is complete, you can get back to your daily activities sooner while experiencing significantly less discomfort in the process.
Are you ready to experience the new standard of dental treatment? Schedule an appointment with a dentist and get pain-free dentistry today!
About the Author
Dr. Chris Thorburn earned his dental degree from the University of Texas School of Dentistry. His practice is one of few in the area that utilizes the Solea laser, which means you can expect pain-free care during your many of your needed treatments. He loves integrating new technologies into his work that help patients restore their smiles. To learn more about his practice, you can contact him through his website.
Comments Off

on Painless Dentistry is Here: Experience the Future with Your Dentist!