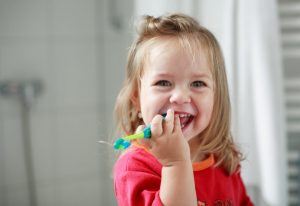 As a parent, your child's smile is the most important and precious thing in the world to you. You want to see your little one grin as much as possible. However, if you don't work with them to take care of their teeth, it could compromise their smile. A dentist is here with three tips to help keep your child's pearly whites out of harm's way.
1. Regular Dental Exams
Your son or daughter might not like visiting their dentist, but doing so could save their smile. Keeping up with these appointments every six months can allow your child's dentist to detect problems in their teeth, like cavities or gingivitis. It's estimated that one in five children have untreated tooth decay. It's crucial that you get cavities taken care of as soon as possible to prevent further damage to the tooth.
You might be wondering whether it's worth it to treat cavities in baby teeth, since they're just going to fall out anyway. However, decay to primary teeth can actually damage the underlying permanent teeth. They may come in discolored or decayed, which requires more extensive treatment.
2. Education
Biannual dental checkups are only half the battle. You also have to educate your child on how to take care of their teeth between appointments. Since young children love imitating Mommy and Daddy, let them watch you as you brush and floss. This should inspire them to take up the habit as well.
A good idea to help them keep up with cleaning their teeth is to track their progress. Put a sticker on a calendar or chart for every day they remember to brush and floss. For every week or month that is completely filled with stickers, let your child choose a mouth-healthy treat, like a family trip to the park or the movies. This way your little one will associate dental care with family fun time.
3. Wearing Mouthguards
If your son or daughter is a young athlete, it's important that they wear not just a helmet, but a mouthguard as well to protect their pearly whites. This durable plastic tray fits snugly over the teeth to protect them from injury due to impact. You can find mouthguards at just about any sporting goods store, but your child is much better off if you invest in a professionally made tray from your dentist. Not only are these mouthguards more comfortable, but they're custom-made to fit your child's teeth, providing more protection.
There's nothing more precious than seeing your child smile. Follow these tips to keep your little one's pearly whites in good condition for years to come.
About the Author
Dr. Johnny Cheng is a proponent of continuing education who has taken more than 500 hours of postgraduate education throughout his career. He is a member of the American Academy of Cosmetic Dentistry, the American Dental Association, the Texas Dental Association, the Academy of General Dentistry, and more. He gladly treats patients of all ages and offers mouthguards to protect young smiles. If you're interested, you can contact his Fort Worth practice, Hulen Dental, at (817) 292-5957.
Comments Off

on 3 Ways to Protect Your Child's Smile