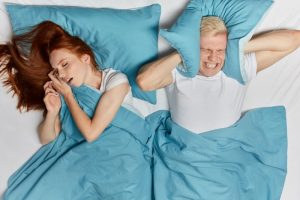 Have you been told that you snore loudly or make gasping sounds when you sleep? If so, you could be suffering from sleep apnea, which is the momentary yet repeated stoppage of your breathing while you rest. The most common form of the condition is obstructive sleep apnea syndrome (OSAS), which affects millions of Americans. Up ahead, you'll learn more about the condition and how an oral appliance provided by a sleep dentist can help you recover.
Facts About OSAS
If you have OSAS, there is a partial or full blockage of your airway while you sleep that causes stoppages in breathing. This can be exacerbated by a larger-than-normal neck girth due to obesity and throat muscles that become flaccid while you sleep. Certain lifestyle habits can also contribute, such as smoking, dealing with continuous stressors and the use of electronic devices before retiring for bed.
Here are some of the typical warning signs of OSAS:
Mood swings
Inability to focus
Daytime sleepiness
Bouts of depression
Morning headaches
Morning throat soreness
If you notice any of these symptoms, you should bring it to your doctor's attention so you can take a sleep test. After your results are reviewed, if you're diagnosed with OSAS, a sleep dentist can then help you recover.
Treating OSAS
One of the non-surgical methods of treating OSAS is to use a nasal mask (cPAP), which forces air into your throat while you sleep. Many patients are also able to get effective results from wearing an oral sleep appliance. The quiet and less cumbersome form of treatment works by slightly shifting the jaw forward to allow for better airflow and uninterrupted sleep. An added benefit is that it's much easier to transport an oral appliance, especially when you're traveling. Many patients also find it to be a more comfortable treatment solution.
Why You Shouldn't Ignore the Symptoms
No matter what type of sleep apnea you're diagnosed with, you shouldn't ignore it. For starters, getting adequate rest is an integral part of your wellness, as it can greatly impact your immune function. Thus, hesitating to seek treatment can leave you susceptible to developing high blood pressure, heart disease, liver dysfunction or suffering from a stroke.
Furthermore, attempting to drive a vehicle or perform your duties at work can pose a risk to you and others, as functioning without sufficient rest can leave you drowsy and less responsive. To protect yourself, take swift action to have OSAS diagnosed and treated so that you can fully recover and lead a more productive and healthier life.
About the Author
Since entering the dental field, Dr. Johnny Cheng hasn't wavered in his commitment to excellence; thus, he has taken over 500 hours of continuing education in multiple areas. A highly accomplished professional, he was rated "Top Dentist" in Fort Worth Magazine from 2006 – 2011. Dr. Cheng combines his years of experience and a vast knowledge base to help his patients recover from OSAS at Hulen Dental. He can be reached for more information through his website.
Comments Off

on How an Oral Appliance Can Help You Recover from Sleep Apnea