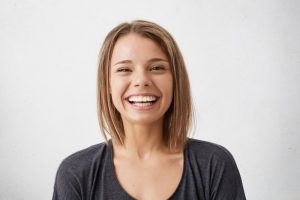 Your smile can reflect who you are as a person. How often you smile can show how happy you are. Your confidence can shine through your smile. Unfortunately, if you're unhappy with the way your teeth look, your smile probably won't be too confident. If you're ashamed to smile, it can make you appear not as friendly as you really are. That's why it's important to have a smile that reflects how beautiful you are on the inside. Your cosmetic dentist in Fort Worth offers 6 ways to transform your smile.
1. Gum Lifts
Have you ever been told you have a "gummy smile?" If you would like more of your teeth and less of your gums to show when you grin, your dentist can help. He or she can use laser dentistry to reshape your gum line. The laser technology is efficient and safe, resulting in minimal bleeding. You won't even need stitches, because the laser seals as it goes.
2. Invisalign
Want to straighten your teeth without the uncomfortable metal of braces? Invisalign is a set of clear plastic trays that gradually straighten your teeth in less time than braces. They are more comfortable, provide no dietary restrictions, and, as their name implied, are invisible.
3. Porcelain Veneers
Do you have chips, cracks, stains, gaps, or slightly crooked teeth? Porcelain veneers can conceal all of these imperfections. Your dentist will remove a small layer of enamel to make room for veneers, thin shells of dental porcelain that are placed over the front surfaces of your teeth. They will completely transform your smile.
4. Teeth Whitening
Has years of drinking coffee and red wine stained your teeth? Your dentist offers take-home whitening kits or in-office whitening treatment that is much stronger than anything you can find in stores or online. Your smile will be up to 8 shades whiter once your treatment is completed.
5. Snap on Smile
Do you want to restore your smile but not have to pay the full price for veneers, Invisalign, or whitening? Try Snap-On Smile! It's basically a set of veneers for your top teeth in the form of a tray. Slip it on over your teeth, and voila, your smile is good to go. You can even eat and drink with it in.
6. Full Mouth Reconstruction
Are you missing teeth due to dental decay or injury? If you are, it can make you look older than you actually are. Your dentist can examine your mouth to figure out what the best option is to replace your missing teeth. Whether it's with dental implants, bridges, or dentures, you and your dentist can create a plan that works best for you.
It's never too late to get started on transforming your smile. The first step is a consultation to find out what's best for you. Contact your dentist today to begin your smile journey.
About the Author
Dr. Johnny Cheng has been named one of "America's Top Dentists" in cosmetic and family dentistry in 2005, 2006, and 2008. He has completed more than 500 hours of postgraduate training, with an emphasis in cosmetic dentistry in order to provide his patients in Fort Worth, TX with the best that modern dentistry has to offer. To learn more about how he can beautify your smile, contact him at (817)-292-5957.
Comments Off

on 6 Ways Your Cosmetic Dentist in Fort Worth Can Transform Your Smile