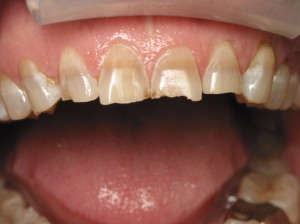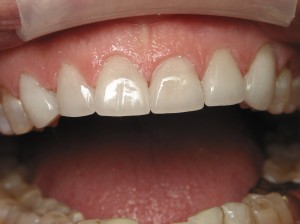 Tetracyline is an antibiotic that was widely prescribed for pregnant women and children from the 1950's through the late 1970's.  One of the possible side effects was permanent staining of teeth.  In this case, presence of tetracycline staining and severe wear from teeth grinding led this patient to take action.
First, Teeth whitening was performed for a few weeks.  Then, six upper front teeth were prepared for porcelain veneers and temporaries were placed.  A couple of weeks later, the real porcelain veneers were bonded onto the teeth and the result was spectacular!  A Nightguard was also made for the patient to protect the veneers and teeth at nighttime, when most people tend to grind their teeth.
Porcelain veneers may provide a dramatic esthetic result, but more importantly, they can preserve worn, broken teeth and protect them from further damage.
Comments Off

on Tetracycline Stain and Worn Teeth from Grinding