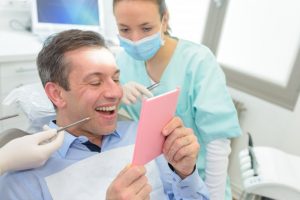 Maybe your tooth has substantial decay or perhaps your tooth is broken and needs to be restored. You need a dental crown. Traditional dental crowns are created at dental labs and require two dental appointments to place. Plus, temporary crowns, which are worn while the custom ones are being made, have been known to fail, necessitating yet another visit to the dentist. But who has time for all these dental appointments? You would think that with technology these days there would be a more efficient way of getting your crown! Well, in fact, there is. Some dental offices have the capability to provide same-day crowns using CEREC. Learn more about the technology and materials used to deliver this treatment.
What is CEREC?
The acronym CEREC stands for Chairside Economical Restoration of Esthetic Ceramics and refers to the machine and technology used to create same-day crowns. Basically, CEREC takes a 3D image of your tooth and mills a custom crown out of durable dental ceramic. Through advanced CAD/CAM software, your dentist in Fort Worth can perform in only about an hour what it takes dental labs up to a couple of weeks to do right there in their office.
How are same-day crowns made?
After you and your dentist determine that a dental crown fits your specific needs, they need to prepare your tooth. For example, if your tooth is decayed, they address that issue first. At that point, the process for same-day crowns goes as follows:
Your dentist will remove a portion of your tooth to shape it for the crown.
Then, a 3D image of your tooth will be captured with a digital scanner.
They will then put the image into CEREC software to design your personalized crown.
The milling machine will use this design to fabricate your crown from a block of dental porcelain.
Your dentist will then place the crown and make any necessary fine-tuning.
It's that straightforward and fast!
What are the benefits of the materials used for same-day crowns?
The materials used to make same-crowns sometimes differ from those of traditional crowns. For example, for back teeth, some dentists choose porcelain on metal, which although durable makes for an unnatural looking restoration. By using dental porcelain, CEREC same-day crowns provide several advantages, including the following:
A more lifelike restoration.
No need for unpleasant putty impressions.
A 95.5 percent success rate after 9 years and 84 percent at 18 years.
About the same cost as traditional lab-made crowns.
Faster, more accurate data for designing the crown.
Your time is valuable. The dentist you choose should use technology that helps you use it more efficiently. With CEREC same-day crowns, you can get in, get out, and get on with life and still enjoy high-quality dental treatment. Find out if your dentist in Fort Worth uses CEREC same-day crowns and take advantage of this helpful technology for your next tooth restoration.
About the Practice
At Hulen Dental, the three experienced, talented dentists utilize the best technology that dentistry has to offer, including CEREC to create same-day crowns for their patients. In fact, in 2005, the practice was named the CEREC Office of the Month for their progressive use of this state-of-the-art technology. To schedule an appointment with them, you can call (817) 292-5957 or click here.
Comments Off

on Technology and Materials: 2 Reasons to Opt for a Same-Day Crown