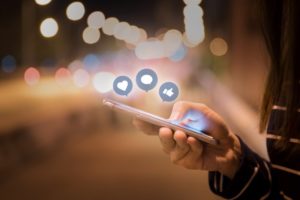 Social media platforms have become a big part of life now, especially TikTok. It is estimated that the app now has upwards of 1 billion users. While it is often used to upload and view entertaining content like dance videos or makeup tutorials, there can be harmful posts as well. A recent dangerous TikTok trend has been the "veneer check". While cosmetic procedures like veneers are very safe and reliable for most people, this challenge is spreading misinformation. This can negatively impact your oral health. Read on to learn more about the trend and how to safely achieve your smile goals.
What Is the "Veneers Check" Trend?
The popularity of social media influencers, as well as wanting to look your best on social media, has naturally caused an increased interest in cosmetic dentistry. Veneers are now a known cosmetic dental treatment that can help people achieve the "picture-perfect" smile. Unfortunately, a harmful trend has been attached to them. The "veneers check" is a TikTok challenge where people are showing off their shaved-down teeth in preparation for receiving veneers.
Why Is it Dangerous?
First, the majority of the people participating in the "veneers check" trend are very young! By filing down their teeth at a premature age, they risk having to need dentures earlier in life than the average person. Additionally, many of those showing their "veneers check" are actually getting dental crowns instead of veneers. This leads to misinformation and ruined expectations regarding these two procedures, as they are entirely different from each other. Dental crowns are not meant to cosmetically fix a smile so they can cause many issues down the line if used for this purpose.
What's the Difference Between Veneers & Crowns?
The main difference between veneers and crowns is in their function. Veneers are a cosmetic treatment that uses ultra-thin shells of porcelain to cover dental flaws. This can range from fixing chipped or misaligned teeth to creating a luminous celebrity smile (which seems to be the main reason for attempting the "veneers check"). To prepare the teeth for veneers, a dentist usually removes a tiny portion of their enamel, retaining as much of the natural tooth as possible.
On the other hand, dental crowns are a restorative treatment. They are designed to protect a weak tooth after treating a large cavity or administering root canal therapy. Most people aren't meant to have a mouthful of crowns since they are only meant for particular oral health needs. If young people choose to get crowns instead of veneers for the sake of saving money, they risk their dental health and the look of their smile!
How to Safely Achieve the Smile of Your Dreams
If you have chipped, cracked, misaligned, or discolored teeth, there are effective—and safe—ways to address those issues. To transform your smile, the best course of action is always to get a consultation from a skilled dentist. During your visit, they will learn about your smile goals before assessing your dental needs and determining what the best treatment is.
While social media has its place, it is best not to use it for dental or oral health advice or guidance. By speaking with your dentist, you can achieve a beautiful smile effectively and safely.
About the Practice
Fort Dental keeps the smiles of Fort Worth healthy and beautiful through the expertise of its team of dentists. With more than 40 years of combined experience, they offer a range of services, including cosmetic dental care. With the use of state-of-the-art technology and customized plans, they can safely and successfully enhance your smile with veneers. To schedule a consultation, contact them through their website or call (817) 292-5957.
Comments Off

on An Inside Look at the Dangerous "Veneer Check" TikTok Trend