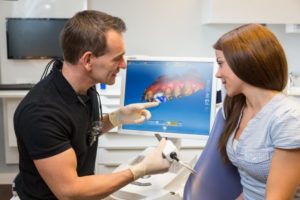 If you're like most people, you probably lead a very busy life these days. You know you need a dental crown to fix your broken tooth, but the idea of squeezing in two separate appointments to get one seems almost impossible. Fortunately, many dentists are able to provide same-day dental crowns thanks to CEREC technology. This makes it much easier to receive the treatment your smile needs without taking time out of your busy schedule. Here are a few other great things you should know about same-day dental crowns.
Same-Day Dental Crowns Only Take About an Hour to Place
Traditionally, dental crowns take two or three appointments and several weeks to place. Conversely, CEREC same-day crowns can be designed, fabricated, and placed in a single visit that usually takes an hour or less. No longer do you have to worry about taking time off work on two separate days. Now, the whole process can be handled in one sitting!
They're Made from the Same Durable Porcelain as Traditional Crowns
The added speed and convenience of the same-day crown process doesn't sacrifice their quality. They're made from dental porcelain, just like conventional crowns. As a result, they should be able to withstand the daily pressures of chewing for a decade or longer.
They're Just as Lifelike as Traditional Crowns
Another reason why porcelain is an ideal material for dental crowns is its uncanny ability to mimic natural tooth enamel. It can be customized to match the exact color of your other teeth, ensuring seamless results. Luckily, the quickness of same-day crowns doesn't come at the cost of their natural appearance.
You Won't Have to Deal with Messy Putty
If you've gotten dental impressions taken before, you're probably familiar with the goopy, gross-tasting putty that dentists have been using for years. Instead, impressions for CEREC same-day crowns are taken with a digital scanner. Not only is this solution more comfortable than using the putty, but it also produces more accurate impressions.
Same-Day Crowns Cost About the Same as Conventional Crowns
With the cutting-edge technology used in making same-day dental crowns, one might think they come with a higher price tag than traditional crowns. However, they actually tend to cost about the same. That's because with same-day crowns, your dentist doesn't need to make temporary crowns or work with an offsite dental lab, which saves them money. Then, they pass those savings onto you.
Getting a dental crown isn't exactly a thrilling experience, but CEREC technology makes the process much more convenient. The next time you need treatment for a damaged or decayed tooth, look for a dentist who offers same-day dental crowns.
About the Practice
At Fort Dental, we have a team of three skilled and experienced dentists who provide a variety of services to families in Fort Worth, TX and the surrounding areas, including same-day dental crowns. They have been using CEREC technology for years. In fact, their dental office was named the official CEREC Office of the Month in August of 2005! If you're looking for same-day dental crowns in Fort Worth, you can contact Fort Dental through our website or by calling 817-292-5957.
Comments Off

on 5 Things You Might Not Know About Same-Day Dental Crowns