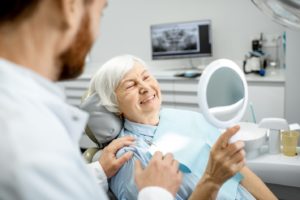 If you've been thinking about upgrading your dentures to something a little more effective, have you considered dental implants in Fort Worth? Often regarded as the gold standard for replacing missing teeth, dental implants are in a class of their own and can do some pretty incredible things that dentures simply aren't capable of. Keep reading to learn a little more about why this transition is worth it, along with what you can expect during it.
Why It's Worth Switching from Dentures to Dental Implants
Although dentures are the traditional and typically more-affordable solution for missing teeth, they are not a great permanent solution. While they are relatively easy to use, their inability to remain stable inside of your mouth is a big problem. They can easily slip and slide around just from the motion of eating and talking, and the adhesive used to attach them can be a hassle to use. Not to mention, cleaning them can be a pain!
But dental implants provide all the benefits of dentures and more; not only are they much more stable, as they are surgically inserted into your jaw, but they're quite durable too. This means you don't have to use any adhesives to keep them in place, and they won't move around at all due to motion. They can also last for a very long time if you practice regular oral hygiene.
What You Can Expect During the Transition
Compared to receiving dentures, dental implants can take some time. If your jawbone density isn't sufficient for supporting implants, you may need a bone graft beforehand. This process can take from four to six months, as the new bone will need to fuse with your jaw. But once it does, you'll be able to fully support implants—though that process can also take several additional months to recover from.
Some patients are also curious about using their dentures with dental implants. Although this is still a viable option, you'll still have to take special care of your dentures. These can be permanent or removable, though most basic dentures are not constructed of a strong enough material to withstand the full capabilities of dental implants.
3 Helpful Tips for Your Transition to Dental Implants
Here are a few tips that'll assist you as you move on from your dentures and onto dental implants:
Watch what you eat – It's true that you'll be able to eat virtually whatever you want when your implants are fully healed, but in the meantime, you'll want to maintain a soft-food diet to ensure your recovery goes as planned.
Prepare for an extended healing period – After your implants are placed, it'll take a few months for them to fully fuse with your jawbone. This process is vital for the future success of your implants, so it's important to be vigilant and careful throughout it.
Adapt your oral hygiene routine – Dental implants are much easier to clean and maintain compared to dentures; rather than taking them out to soak them in a solution, you'll simply care for your implants as you would your natural teeth.
About the Practice
The team at Fort Dental is thrilled to serve patients and families in the Fort Worth area. The practice is pleased to offer a wide range of preventive, cosmetic, and restorative dental options including dental implants. If you have any questions about the article or would like to schedule an appointment, you can contact the practice through their website or over the phone: (817) 292-5957.
Comments Off

on Ensuring a Smooth Transition from Dentures to Dental Implants