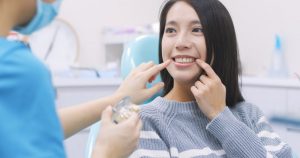 When you were told that you had a cavity and the dentist scheduled you for a dental filling at a later date, did you end up making that appointment? Or, were you like many other patients and chose to skip it because you didn't want to deal with the sounds and sensations of a dental drill? Don't worry, you're far from the only person with this issue.
Luckily, this dentist offers a new technology that will change the way you think about dental fillings forever: the Solea Laser.
What is the Solea Laser?
The Solea Dental Laser is a device that has the potential to revolutionize the way dentists approach treatment. More importantly, it gives patients a reason to get the treatment they need without worry of discomfort or the typical side effects associated with dental treatment. In the case of the Solea laser, CO2 is used instead of water, a common part of other dental laser tools. By reaching a specific wavelength, the Solea laser can precisely vaporize enamel instead of chipping it away, allowing for a more precise restorative function.
Keep in mind that dental fillings are far from the Solea Laser's only applications. It's ideal for both soft and hard tissue, meaning it can also remove supportive bone tissue (in preparation for dental implant placement) just as well as it can remove gum tissue for cosmetic purposes.
What is a Traditional Dental Filling Like?
Traditionally, dental fillings require injecting local anesthetic into the gum tissue to numb the area, allowing for easy buffing and cleaning of tooth structure. Many patients don't like dealing with the numbing effects of anesthetic, which often takes hours to wear off.
Once the anesthetic is administered, a dental drill is used to buff down enamel and make room for a filling. The loud whining sound of the drill as well as its abrasive nature turns people off to fillings so much, they end up skipping treatment entirely.
How Can the Solea Laser Improve Fillings?
The Solea laser is far more precise and uses no physical drill to remove tooth structure. Because of this added precision, patients don't need local anesthetic to numb the area. In fact, most patients feel nearly no pain whatsoever from the Solea laser. There's no loud or unsettling sounds while the laser is used, meaning the overall experience is far more comfortable.
Due to the added precision, it's much easier for the dentist to retain more of your natural tooth structure. This is a very high priority for dentists and the Solea laser makes it easy to make this a reality. Treatment with the Solea laser also results in less unnecessary removal of tissue or oral structures, resulting in a quicker healing time, less bleeding and no need for sutures after treatment.
Overall, treatment with the Solea laser is pain-free and an experience you must truly feel to believe. Schedule an appointment today to get your dental filling treatment completed!
About the Author
Dr. Johnny Cheng is always working hard to find new ways to improve his patients' overall dental experience. His decision to introduce the most advanced dental technology available is just one of many reasons he has been named a Top Dentist and one of Texas Monthly's Super Dentists. To learn more about his practice, you can contact him through his website.
Comments Off

on Want an Alternative to Fillings? Dentist Offers the Solea Laser