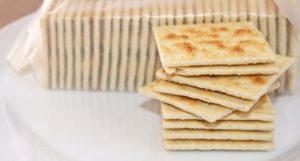 A can of cola, a pickle, caramel – many of the problematic cavity-causing foods out there probably aren't a surprise to you. It's important to be aware of some lesser-known items that can still cause trouble for your oral health.
Keep reading to learn from your dentist in Fort Worth about some sneaky items that you can avoid, or at least have in moderation.
Cough Syrup
Even though you think of cough syrup as something that will help you feel better when you're sick, it certainly isn't doing good things for your smile. There is a lot of sugar in this product to fuel the growth of bacteria. Ingredients like citric acid can also wear down the protective enamel of your teeth, leaving them in danger of decay.
Saltine Crackers
If you aren't feeling too well, you may find yourself curled up on the couch with a blanket, your favorite bowl of soup, and some saltines. However, these crackers certainly aren't doing much for your smile. Starchy snacks are almost as bad for your teeth as sugar is. They also stimulate bacterial growth and encourage the bacteria to eat away at your protective enamel. In the end, you could have additional cavities.
Alcoholic Beverages
The main issue with alcohol is that it dries out your mouth. This is because it dehydrates your body and leads to lower saliva production. Saliva is necessary for your oral health. It helps to neutralize harmful acids and washes away food particles and bacteria. When your mouth is dryer than normal, it becomes the perfect breeding ground for bacteria. Ultimately, you are more likely to experience halitosis (bad breath) and tooth decay in the future. Drinking water is healthy for many reasons and this is one of them.
Raisins
Raisins provide many nutritional benefits since they have an array of vitamins, healthy fiber, and minerals. However, they aren't so good for your teeth. Raisins have high sugar content. The bacteria in your mouth love eating sugar and ultimately, you will be more likely to experience tooth decay. The biggest problem with raisins is they stick to teeth and aren't washed away easily. This snack is definitely one to save for occasional enjoyment.
The next time you are planning to consume these items, keep in mind how they'll affect your teeth. Be sure to brush your teeth afterward and drink water when you do choose them. By making wise decisions about what you consume, you'll be able to maintain a healthy smile for many years to come.
About the Practice
At Fort Dental, we always strive to be a friendly and compassionate staff and we love to meet new patients. We are open on evenings and Saturdays, plus we offer same-day appointments because we know how busy your schedule can get. We welcome dental insurance and our experienced team will handle all the paperwork and maximize your coverage. If you ever need a filling to treat a cavity, we offer tooth-colored fillings and you won't even need numbing medication. In fact, for any of your oral health needs, we are ready to help. Schedule an appointment on our website or call (817) 292-5957.
Comments Off

on What Are Some Surprising Cavity-Causing Foods?