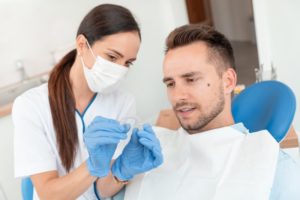 Thanks to Invisalign, hundreds of millions of people have been able to obtain the smiles of their dreams without the sacrifice of months wearing brackets and wires on their teeth. If you're considering Invisalign in Fort Worth as a cosmetic dental option, you'll want to be aware of what to expect. Before beginning the process, keep reading to find out what you need to know about treatment.
Invisalign: Most Common Questions and Answers
If you've never had Invisalign treatment or known someone who has, you probably have several questions. Here are some of the most common things people want to know before beginning Invisalign treatment and the information that can help you understand more about how it works:
How Long Will I Have to Wear Invisalign?
This is one of the most commonly asked questions. It's only natural to want to see the light at the end of the proverbial tunnel before beginning any physical enhancement. The truth is, there is no cut and dry answer to this question, as every patient's smile is unique to them, meaning treatment is not "one-size-fits-all." On average, treatment takes approximately a year, however, your dentist will be able to set more realistic expectations once they assess your personal needs.
Is Invisalign Covered by Dental Insurance?
The second most common ask that people have, is whether or not their insurance benefits will help to cover the cost of Invisalign treatment. Because straighter teeth have been linked to less oral issues and better overall health, there is a good chance your insurance company will provide some coverage. Plus, if you're already contributing to a Healthcare Savings or Flexible Spending Account, this is a great opportunity to maximize your benefits and make the most of those dollars.
Will My Trays Turn Yellow Over Time?
One of the most attractive things about Invisalign is the fact that you can't see it. Obviously, no one wants to walk around with an aligner that has become stained and makes their natural teeth look yellow. The good news is, you have the power to keep your trays looking crystal clear by following the cleaning instructions provided by your dentist on a daily basis. This will likely involve brushing them with a clean toothbrush or soaking them in a cleaning solution. It's also important to avoid tooth-staining activities such as drinking dark beverages or using tobacco products.
Do I Have to Keep My Aligners in All Day Long?
One of the primary reasons that the treatment time for Invisalign gets extended for many patients is that they fail to wear them for the instructed amount of hours each day. In order for the aligners to be effective throughout your diagnosed treatment time, you will need to keep them in your mouth for 22 hours per day. It is extremely important to adhere to this process, so that you don't end up having to undergo an extended treatment period.
Invisalign has many benefits that not only straighten teeth, but also improve chewing, speaking, and overall oral functionality. If you're ready to talk about Invisalign, don't hesitate to contact your dentist to find out how it can work for you!
About the Practice
The doctors at Fort Dental in Fort Worth love being able to provide their patients with the smiles they've always wanted through the benefits of Invisalign. Their combined skills and years of training give them the ability to provide the highest level of care to everyone who walks through their door. Are you ready to have the smile of your dreams? Schedule a consultation online, or call us at (817) 292-5957.
Comments Off

on What You Need To Know About the Invisalign Process