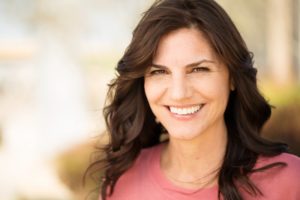 The summer brings time spent with family, having fun outdoors, tasty food, and of course, the smiles that go along with these activities. However, smiling is easier said than done if you have cosmetic imperfections like chipped, gapped, or misshapen teeth. These common problems affect your appearance, but they can also have a negative impact on your confidence. Thankfully, your cosmetic dentist offers 2 effective options for creating the smile of your dreams. The best part is that they're quick and convenient!
Option #1: Porcelain Veneers
One of the most popular cosmetic dentistry options is porcelain veneers. They are designed to cover the entire front surface of your teeth, concealing a wide variety of flaws. The shape, size, and shade of your veneers will be customized to your exact specifications, seamlessly matching your natural smile. The best part is that your dentist can veneer one tooth, multiple teeth, or your entire smile depending on the cosmetic problems affecting it. Plus, you can enjoy a completely transformed set of teeth in just 2 appointments.
Option #2: Snap-On Smile
An alternative option to porcelain veneers is called Snap-On Smile. This treatment can provide you with a beautiful, straight, white, and natural looking set of teeth in just two visits. It's more affordable than other cosmetic solutions like veneers and Invisalign because it's made of composite resin. The Snap-On Smile gets its name because it's a prosthetic you can quickly take in and out of your mouth. This durable dental resin creates a beautiful, confident smile, and it lasts for at least 3 to 5 years.
Which Cosmetic Treatment is Best for You?
Because no two smiles are the same, the only way to know which solution is right for you is to visit your dentist for a consultation. They will carefully examine your smile, and the problems that affect it before recommending the best option. They will come up with a personalized treatment plan based on your needs. Porcelain veneers tend to be more costly, but they also last longer and are more customizable. Additionally, the dental porcelain that veneers are made of is relatively stain-proof, and it better mimics the way your natural teeth reflect light. Snap-On Smile involves a less invasive procedure, allow patients to change their smiles without permanently altering their natural teeth.
You can get a smile makeover this summer in less time than you think. You don't need to get some involved treatment—just the service that works for you. The best part is it can be completed before the season is over!
About the Practice
At Hulen Dental, we have a team of 3 expert dentists who combine their knowledge and training to provide the best experiences for their patients. They offer a wide range of cosmetic dentistry services, including Invisalign, full mouth reconstruction, porcelain veneers, Snap-On Smile, and more. If you have any questions, they can be reached through their website or by phone at (817) 292-5957.
Comments Off

on The Quickest Ways to Completely Transform Your Smile!