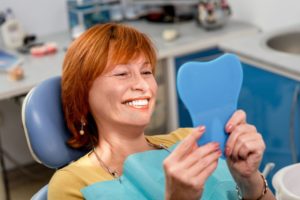 Missing teeth affect more than just your appearance. Like many people, your missing teeth may make certain foods hard to eat, too. That is why you are so excited to be filling in the gaps of your smile with dentures! But when can you expect your dazzling smile to be complete? Read on to learn about the full denture process.
The Denture Process
While the journey to receiving your final prosthetic can vary for everyone based on different factors, this is the basic denture process:
Possible Extractions
Depending on your dental needs, you may either receive partial or full dentures. If you will be receiving a replacement for an entire arch and you have remaining teeth, you will need them to be removed. Your dentist will then begin the process of designing your dentures once your mouth has completely healed, which can take up to several months. However, recovery won't be the same for everyone; it depends largely on how many teeth are being extracted and how quickly your body heals.
Impressions
For a firm and long-lasting fit, your dentist will need to make sure your dentures are perfectly shaped to the contours of your mouth. Impressions will be taken, which usually involve biting down on dental putty in order to take an impression. A number of measurements will also be made to ensure that the dentures match your bite pattern. Then a wax mockup of your new teeth will be made from the impressions to ensure an accurate fit. The model will then be sent to a lab for the fabrication process.
Readjustments
Your mockup dentures will need to be adjusted over the course of several appointments. Each adjustment is to help ensure that the final product matches your facial features; for example, the length of the teeth may need to change. In addition, changes will be to ensure minimal slippage of the dentures.
Final Placement
Once the final adjustments are complete, your permanent and the final dentures will be made. Then it's time to put your dazzling new teeth into place! Your dentist will check for an accurate fit and see if you feel comfortable. There may be some slight adjustments afterwards so that the dentures stay firmly in place. If you notice any soreness on your gums as you wear your new prosthetic, it could be a sign that your dentures are ill-fitting and need to be examined by your dentist immediately.
How Long Will the Entire Process Take?
As stated above, the process toward your renewed smile will vary. There will be multiple appointments and some people will require more or less than others. In general, it can take several weeks to a few months before you receive your final dentures.
With the help of your dentist and patience with the process, you can enjoy a new, complete smile again!
About the Practice
Fort Dental serves Fort Worth and the surrounding areas through the expertise of its team of dentists. They can help you with any of your dental needs with their personalized care and advanced dental technology. With over 40 years of combined experience, they provide restorative dentistry with full, partial, or denture implants to achieve your strong, stable smile! To schedule a consultation, contact them through their website or call (817) 292-5957.
Comments Off

on A Complete Smile: The Entire Denture Process