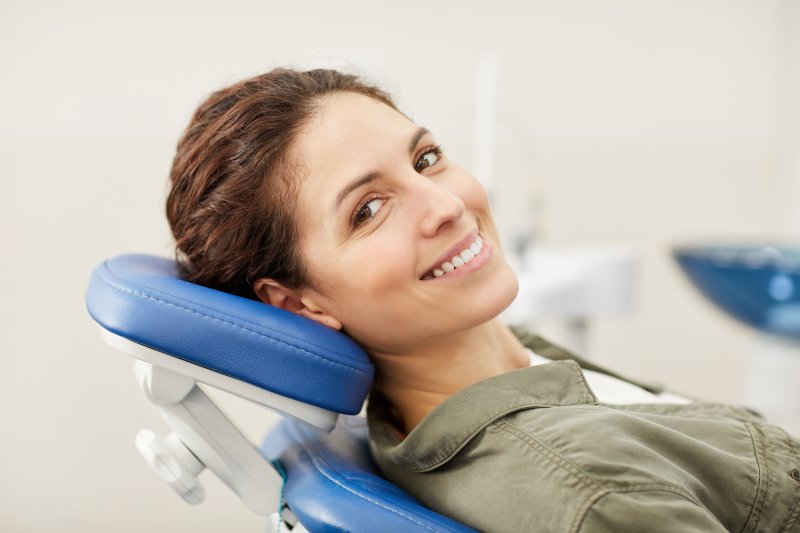 Even if a person considers something beautiful, they may not be able to explain their reasoning. Why are sunsets enchanting? Or a great work of art, for that matter? Perhaps most mysterious is the draw of great smiles — just what makes them so beautiful?
Cosmetic dentistry has the answer to this last question. Read below about three necessary traits of a beautiful smile!
Tooth Color
The first noticeable thing about beautiful smiles is their tooth color. In particular, their white, gleaming shine somehow conveys cleanliness and elegance.
This aspect explains the popularity of professional whitening treatments. Over time, staining can discolor teeth and make them look yellowish. However, teeth whitening with bleaching ingredients can remove stains to return them to a more natural and white appearance. For those whose enamel isn't naturally white, dentists can also use dental veneers or crowns to whiten teeth.
Gum Display & Color
How much of your gums are visible in your smile will impact the latter's quality. Too much gum display leads to what's called a "gummy" smile. It can also make it seem like you have small teeth and large gums. Meanwhile, too little gum display could cause your smile to look "toothy" or old.
Your gums should also have the proper color to create the contrast needed for a good smile arc. If gum disease is causing redness and inflammation, it will affect both the amount of gums showing and their color. As for what a smile arc is, well…
Smile Arc
The "smile arc" is the curve of your smile created by your maxillary gum line and incisal edge. It should have a slight upward curve and narrow toward the ends.
The maxillary gumline is where your upper teeth and gums touch. It should define the smile arc with a relatively straight appearance that curves around each tooth in an even way. Gumline disruption can make your gums appear unhealthy and cause straight teeth to look crooked. Some dentists employ gum contouring to help you achieve the best maxillary gum line.
The other line that defines your smile arc is the incisal edge, the edge of the upper teeth that cut into food when you bite. Its line should be symmetrical and curve upward from the central incisors — the longest teeth in your mouth — toward the molars in the back of your mouth.
Dentists can correct unattractive disruptions to it with restorations like dental veneers, dental crowns, or even dental implants.
Audiences might find beautiful smiles mysterious, but dentists know the qualities that make them good-looking. Consider seeing your local specialist to get such a smile for yourself!
About the Author
Dr. Johnny Cheng is a dentist practicing in Fort Worth, TX, having graduated from the Baylor College of Dentistry. His peers selected him as a "Top Dentist" in Fort Worth Magazine from 2006 to 2011 in cosmetic and family dentistry. He was also named one of "America's Top Dentists" from 2008 to 2011 by the National Consumers' Research Council of America. Even now, Dr. Cheng pursues continuing education to keep his skills sharp and updated. He currently practices at Fort Dental and can be reached at his website or by phone at (817)-292-5957.
Comments Off

on 3 Essential Traits of a Beautiful Smile