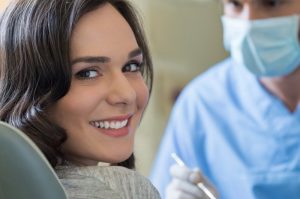 If you've ever avoided the dentist because you hated the sounds of drilling or scraping metal against tooth enamel, it is incredibly important that you keep reading this blog from a dentist in Fort Worth. Not only can you avoid both of these abrasive forms of stimuli during your next visit, but you can achieve a new standard of dental care altogether as well. "How?" you may ask? Through laser dentistry of course!
To learn how laser dentistry works and what you can expect from Solea, keep reading!
What is Laser Dentistry?
Laser dentistry is the practice of using extremely focused beams of light to perform numerous dental treatments. While laser therapy has been around for many years, dentists have only recently been introducing the technology to their practices. Thanks to this technology, dentists can provide patients a significantly improved and more comfortable dental care experience.
What's great about laser dentistry is that it's minimally-invasive, meaning that it's less likely to cause unexpected damage or discomfort during treatment. This is particularly true when compared to traditional dental tools made from metal. If your goal is to receive the most precise and effective dental treatments possible, it's difficult to recommend any other treatment method outside of laser dentistry.
What Can Be Done Via Laser Dentistry?
Laser dentistry can be used to perform the most basic or complex treatments out there. For example, it can be done to prepare a tooth for a filling, crown, bridge or another restoration prior to placement. If you intend on getting porcelain veneers and need to remove enamel, dental lasers allow for more precise shaping and buffing compared to drills or other mechanical tools.
If you need to reshape gum tissue, either as part of periodontal or cosmetic treatment, dental lasers make shaping the gums and removal of bacteria a much smoother process. Even those who want to have dental implants placed can get excess bone and gum tissue removed via a dental laser. There truly are so many applications for laser dentistry!
What Can I Expect from the Solea Laser?
The Solea laser is unique because it is among the most precise dental lasers on the market today. Because of it's incredibly fine tip, dentists can:
Provide a faster treatment overall
Remove the need for anesthetic and injections
Prevent numbing your mouth
Reduce bleeding and discomfort while performing soft tissue treatments
Avoid the need for scalpels or sutures typically used for gum therapy
Remove incredibly precise amounts of tooth or gum tissue
Avoid the high-pitched whine of dental drills
If you've been going to the dentist for many years now, it's time that you experienced the difference that laser dentistry has to offer. Schedule an appointment with a dentist to learn how laser dentistry can improve your future dental care!
About Hulen Dental
The dentists at Hulen Dental do everything they can to improve your overall dental care experience. By introducing laser dentistry, you can receive treatment that's only available in one dental office in DFW and 700 dental offices around the country. To learn more about the practice and the technology you can expect, you can contact our dentists through their website.
Comments Off

on How a Dentist in Fort Worth Uses Laser Dentistry to Improve Care