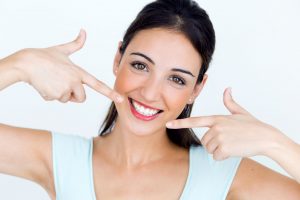 You have crooked teeth, but you don't have the money to shell out for porcelain veneers, braces, or Invisalign. You're getting sick and tired of not being confident in your smile. Luckily, there is a less expensive way to fix your pearly whites – Snap-On Smile. Read on as your cosmetic dentist in Fort Worth explains this new way to transform your smile.
What Is Snap-On Smile?
Snap-On Smile is a more affordable alternative to cosmetic dental procedures like porcelain veneers or Invisalign, but it still gives you an amazing smile. It is made of very durable, high-quality dental resin. Unlike Invisalign, you can eat or drink while wearing it, so no one will even be able to tell. Unlike porcelain veneers, Snap-On Smile transforms your entire row of top teeth at once, not just each individual tooth.
How Long Does Snap-On Smile Last?
With proper care, including regular brushing, flossing, and checkups at your dentist's office, your Snap-On Smile can expect to last 3 to 5 years before needing to be replaced. Make sure to clean your Snap-On Smile by soaking it in a special cleaner fluid that you can get from your dentist. You can do this whenever you're sleeping to make sure it gets adequately cleaned. Additionally, you'll want to brush and floss before every time you insert your appliance. If you don't, then bits of food and bacteria can get trapped underneath and get stuck to your teeth and gums. This increases your chances of getting tooth decay and gum disease.
What Does the Snap-On Smile Process Look Like?
The process takes two appointments. On your first visit, your dentist will take impressions of your teeth to make sure your Snap-On Smile fits comfortably in your mouth. You and your dentist will pick out the style and shape of your new smile. Then you will wait about 3 weeks and return to the office, where your new smile awaits!
Am I a Good Candidate for Snap-On Smile?
Snap-On Smile would be an excellent option for you if you have:
Chips
Cracks
Stains
Gaps between teeth
Crooked teeth
Missing teeth
No matter what you might not like about your pearly whites, Snap-On Smile can fix those imperfections. Talk to your cosmetic dentist in Fort Worth today to learn how you get started on building a brighter, straighter smile.
About the Author
Dr. Johnny Cheng is a member of multiple professional organizations, including the American Academy of Cosmetic Dentistry, American Dental Association, and the Texas Dental Association. He has been named Texas Monthly Super Dentist 2011 and one of "America's Top Dentists" in cosmetic and family dentistry 2009-2011. To learn more about how Dr. Cheng can transform your smile, click here or call (817)-292-5957.
Comments Off

on Your Cosmetic Dentist in Fort Worth Can Give You an Instantly Beautiful Smile